Bobcats replace memory of winless weekend with two victories Tuesday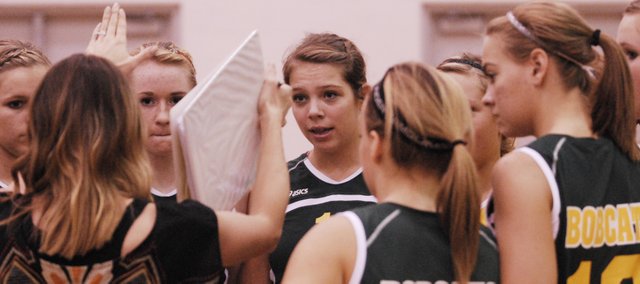 Basehor-Linwood volleyball coach Amy Irvin called Saturday's season-opening 0-5 stretch in the Frontier League tournament "eye opening" for her squad, which features three freshmen.
On Tuesday, in taking two of three at a quad meet in Bonner Springs, the Bobcats (2-6) barely blinked.
Sure, they had their setbacks, and also what Irvin called "gut check moments." Like starting their match against Eudora with a 25-15 set only to fall 23-25 and 25-19. Or, having dominated Baldwin for most of its match, giving away seven points when the Bobcats just needed one more to clinch victory.
"Any match we lose this year won't be based on talent," Irvin said. "Every position we need, we've got that covered."
After Saturday's unsuccessful showing, Irvin said she put her team through scrimmages that simulated game-on-the-line scenarios to test their mettle. Come Tuesday, her players would remind each other that it was "just like practice yesterday" when they found themselves against the wall. Of those eight tests, Irvin said, the Bobcats won them all.
The Bobcats would bookend Tuesday's meet with 2-0 victories against Bonner Springs (25-19, 31-29) in the first match and Baldwin (25-18, 25-21) in the final. Suddenly, a team with seven upperclassmen and three freshmen (Madi Osterhaus, Courtney Robinson and Jamie Weible) sharing the court began to mold into something.
"The upperclassmen know these three freshmen deserve to be there," Irvin said.
Irvin added that it helped to have senior Haley Waters mentor Weible in the back row, and senior Abbey Mellies side-by-side with Osterhaus when it came to blocking.
For much of the night, whenever the Bobcats' setters found the ball and had their named called from the sideline, they knew what to do: get it to senior Brandi Stahl.
Stahl provided much of Basehor-Linwood's firepower Tuesday, stringing together momentum-swinging spikes when needed, or, in other situations, driving a dagger into her foes.
"You've got to have someone like that on your team," Irvin said.
The Bobcats host St. Mary's and Ottawa at 5 p.m. on Thursday, returning home for their first pair of matches with a newfound chemistry.
"Saturday is wiped out," Irvin said.
This story was updated to correct the spelling of senior Abbey Mellies' name and the class year of senior Brandi Stahl.