Braves volleyball team buys in for the long haul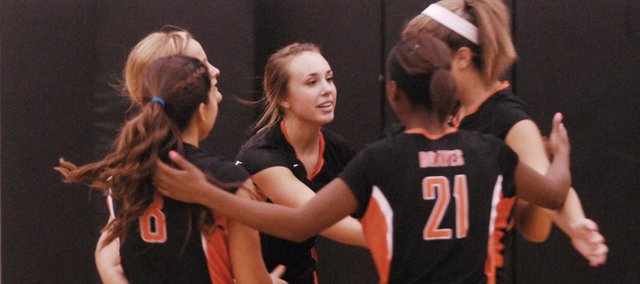 Bonner Springs volleyball coach Jan Madlock is pacing the sideline, flicking a pen in one hand and gripping a clipboard in the other.
Her first regular-season night at the helm is nearing its end, and the Braves are about to lose their sixth-straight set and start 0-3.
And yet she doesn't throw her hands in the air, instead she jumps after freshman Julianne Jackson and sophomore Mikaela Bennett hustle for a ball, and kicks when senior Haley Hoffine rips a kill.
This is just the beginning. The very beginning. A new beginning. And everyone knows it.
"I told the kids in the program that I'm here for the future," Madlock said. "Now, I also told our seniors that I want them to have a good senior year, but they understand we're young."
Three seniors — Hoffine, Cassady Hollaway and Jene' Williams — join junior Mariah Seifert as the team's most seasoned players. The bulk of the Braves' roster is composed of freshmen and sophomores.
Their season began Tuesday with a quad meet against Basehor-Linwood, Baldwin and Eudora. The Bobcats raced to an early 25-14 first-set victory, until the Braves recovered to push them to the brink before falling, 31-29.
Baldwin (25-19, 25-12) and Eudora (25-14, 25-19) followed to keep the Braves winless on their home court.
Still, Madlock was pleased that her team had seemed to buy into her message. Smiles and high tempo play remained until the final whistle.
"You've got to have that buy in," Madlock said, "and have people thinking that we are really going to do this."
One meet into the season, Madlock praised Holloway for her anchoring a libero position that doesn't always get all the attention, but is "the glue that holds us together."
And after having a look at what Hoffine is capable of pulling off?
"If we can get the ball to her consistently," Madlock said, "she's going to be a definite force."
The Braves host Bishop Ward, Christ Prep and Lousiburg at 5 p.m. on Thursday.