Basehor-Linwood
ACT

scores rise again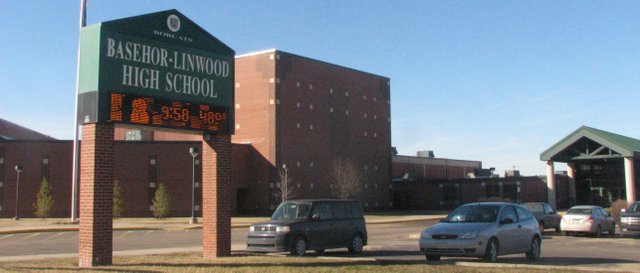 USD 458 ACT scores
A breakdown of Basehor-Linwood ACT scores in 2012 and 2011 (state averages in parentheses):
Composite
2011: 22.3 (22.0)
2012: 22.5 (21.9)
English
2011: 21.9 (21.4)
2012: 21.8 (21.3)
Math
2011: 21.6 (21.8)
2012: 22.5 (21.8)
Reading
2011: 22.6 (22.3)
2012: 23.0 (22.3)
Science
2011: 22.5 (21.9)
2012: 22.2 (21.7)
Students tested
2011: 108
2012: 117
Basehor-Linwood High School's average ACT scores climbed for the second straight year in 2012, with students showing particular improvement on the math portion of the college entrance exam.
The class of 2012's average composite score rose to 22.5 from an average of 22.3 for the class of 2011. Basehor-Linwood beat the state average on composite score as well as in each of the test's four subject areas. The increase came in a year when more Basehor-Linwood graduates than ever, 117, took the test.
All scores are out of 36 possible points.
"I think it just showed some continued improvement in what our ultimate goal is: to make sure our kids are career- and college-ready," Superintendent David Howard said about the scores.
The math section had been Basehor-Linwood students' weakness in 2011, when composite scores jumped by a full point following three straight years of declining scores that fell below the state average.
But in 2012, the average Basehor-Linwood math score jumped from 21.6 to 22.5, compared with a state average of 21.8. The average state composite score fell slightly to 21.9 in 2012 from 22.0 in 2011.
Howard said the district's improvement trend was no coincidence.
"We've really kind of had a big push on improving our scores here, and I think we're starting to see some of those effects," Howard said.
Basehor-Linwood High School Principal Sherry Reeves said a big factor in the improvement had been the introduction of more challenging college-preparatory courses.
Reeves noted that BLHS students' average math score had jumped two full points, from 20.5 in 2010 to 22.5 in 2012, since the introduction of new honors math classes for sophomores and juniors.
She said the school was stressing college- or career-readiness earlier than ever with students, and families were taking part, as well.
"I think at home there's more conversation now, in being prepared for and thinking through what they want to do after high school," Reeves said.
And among some top students, Reeves said, a bit of competition has broken out in recent years. Students who score a 30 or higher on the test are recognized on an academic honor wall in the school building, she said, and a few students have angled for the top spot.
"They're very competitive with each other to see just who is the highest," Reeves said.
But in addition to competition at the top, a higher number of BLHS students are proving themselves ready for college.
In 2012, 35 percent of BLHS seniors met the ACT's college readiness benchmarks in all four subject areas — English, math, reading and science. In 2010, only 19 percent met all four of those marks. The state average in 2012 was 29 percent.
Howard said the district would continue to push for improvement on the test.
"It's really a good measuring stick of the rigor within your high school and how your students are prepared when they move on," Howard said.