'

It's just their world': iPads changing Basehor-Linwood sixth-grade classrooms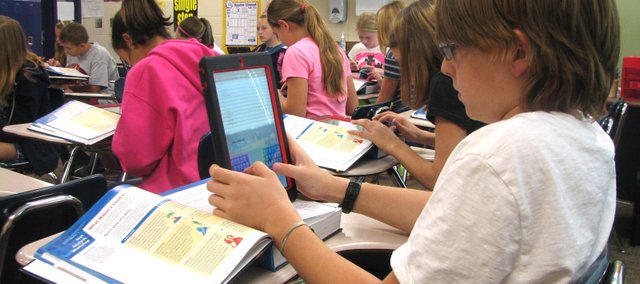 After providing a few minutes to finish up homework, Juli Brown has some instructions for her students.
"Here's what I need you to have out on your desk: your literature book and your iPad," Brown says.
The Basehor-Linwood school district spent $126,000 to put an Apple iPad in the hands of every Basehor-Linwood Middle School sixth-grader this year, and on Monday those iPads were the only tool students needed in Brown's reading class. No notebooks, pencils or highlighters were necessary.
When Brown asked her students to write down the setting of the books they were reading, they tapped away on the touchscreen tablet devices. And rapid "click" noises — familiar to anyone who's used an iPad or an iPhone — filled the room like the croaks of frogs on a summer night.
"That's how I know they're staying on task," Brown said after class.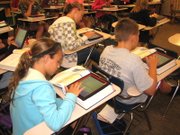 Indeed, every student in the room was tapping on his or her screen, using the iPad's Notes application to write down answers. At the end of class, the students save their work. Students can't run out of paper or misplace their work later, Brown said.
They also don't have to lug their 2-inch-thick literature textbook home with them at night, as the book is accessible on their devices. And if they leave a worksheet at school, that's no worry. They can access that, too.
Each BLMS sixth-grader has been checked out one of the devices, outfitted with a thick rubber case. And for a $50 insurance fee, he or she can take it home each day. Each student will keep the same device during his or her three years at BLMS, Principal Mike Wiley said, though they'll have to check them back in at the end of each year.
If the program is successful, each incoming crop of BLMS sixth-graders will receive new iPads, and the district eventually plans to install a similar program with laptops at Basehor-Linwood High School, Superintendent David Howard said at a school board meeting in May.
Sixth-grader Ava Seaton said it was nice to be part of the lucky class to take part in the iPad program first.
"It feels really good, because my sister's in eighth grade, and she's really jealous," Ava said with a smile.
She's disappointed that students aren't allowed to download "Angry Birds" or other games onto the devices, but she said it still makes schoolwork more exciting.
"I've been just playing around with it," Ava said.
The iPads have that effect on many students, Wiley said, and they seem to be more focused in class.
"They're quieter," Wiley said.
Brown said she and the other sixth-grade teachers gathered during the summer to plan how to integrate the iPads into their lessons, and attended conferences for ideas. On Monday, she used a free app on her own iPad that randomly selects students to take turns reading out loud. A jar of popsicle sticks appeared on the screen, and when Brown tapped it, a stick with a student's name was drawn out.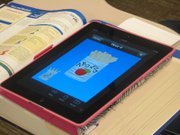 Of course, there have been some challenges, Brown said. One student in her class Monday had to work standing behind a bookshelf so her iPad could charge in a wall outlet, after failing to charge it during the weekend. And some students have been a bit distracted by the device's possibilities.
Before class in Brown's room on Monday, one student watched a YouTube video on his iPad, while another looked at photos. But when the bell rang, they switched to their textbook app, as instructed.
Brown said tech-savvy students have delighted in teaching others — including the teachers — things they can do with the tablets. It's clear such technology fits perfectly into their lives, she said.
"It's just their world," Brown said. "That's the bottom line."