Free State soccer tops Bonner Springs, 6-0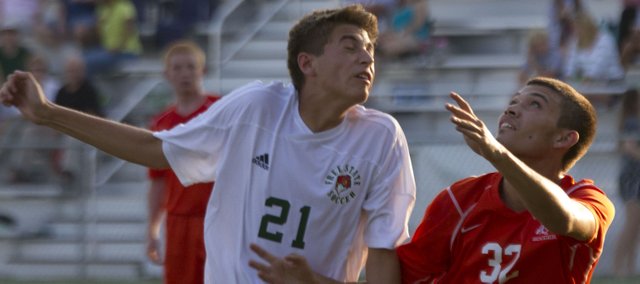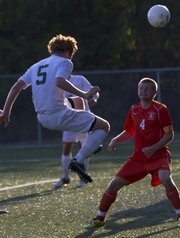 On the day before his team's first game, Free State coach Kelly Barah had his players work on their corner-kick sets.
It ended up paying off just 14 minutes into the season.
Firebirds junior Alex Trent knocked in a header off a corner-kick feed from senior Evan Smith, starting the scoring in the Firebirds' 6-0, season-opening victory over Bonner Springs on Thursday at Free State.
"That's a perfect start," Smith said of the goal. "It's exactly what we were looking for."
Smith delivered his high-arching pass to the far post, where Trent charged in uncovered.
At first, the midfielder thought he might have started his run a second too late.
"I knew where I was supposed to go. It was a good ball; it was perfect — right to me," Trent said. "I just went up and got it."
The ball didn't hit the turf again until it was in the right side of the net.
It was the first goal of Trent's Free State career.
"I was a little surprised, because the angle wasn't the best angle," Smith said. "But (Alex) is a beast."
Junior A.J. Ware added a goal in the 21st minute off a feed from Trent before Free State expanded its lead in the second half.
Smith contributed his second assist in the 45th minute, sending a cross to Caleb Francis, who knocked it in to make it 3-0.
"We have a couple of players now that can really find targets, be it short or long, and he's one of the better ones that we have right now," Barah said of Smith. "He's worked really hard."
Ware added his second goal off a feed from freshman Will Laufer in the 65th minute.
Chaska Rocha assisted Briceson Junge in the 71st minute, while Kyle Freese added Free State's final goal one minute later.
"I thought we possessed really well," Trent said. "We're trying to focus on being a possession team first and then working off that. We're just putting everything together at this point."
Bonner Springs' best chance to score came in the 44th minute, as a deflected shot by junior Robbie Glenn ricocheted to a few feet in front of the goal line before getting cleared by a Free State defender.
Senior goalkeeper Luke Lesslie posted the shutout for the Firebirds.
"Everything we've been working on in practice has been coming together pretty quick," Trent said. "I feel like we're definitely headed in the right direction."