Taking turns at tourneys: Braves boys, girls advance to finals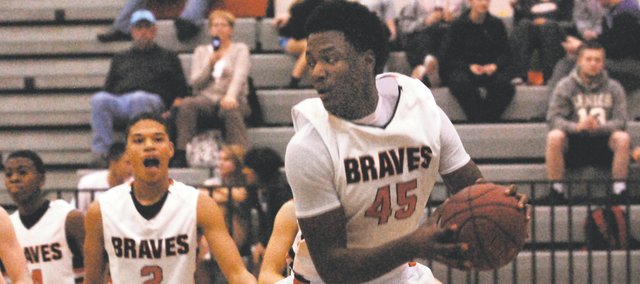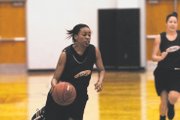 Both the Bonner Springs boys and girls basketball teams will meet fellow Wyandotte County — and Kaw Valley League — foe Piper in a pair of separate early season tournament championships this week.
The boys defeated Eudora, 46-32, on Tuesday in Paola to advance to the Panther Invitational final at 8 p.m. Friday at Paola High. The BSHS girls basketball team will also vie for a tournament title to cap its first week of regular season play. The Braves (2-0) downed Paola, 62-53, to advance to the Cardinal Invitational final at 8 p.m. on Thursday at Eudora High.
Both teams kicked off their seasons on Monday with a pair of impressive performances.
BSHS senior Austin Twombley, a transfer from Lawrence High, scored 21 points to lead the Braves (2-0) to a 77-36 rout of Heritage Christian Academy in the first-round of the 2012 Panther Invitational at Paola High.
Also on Monday, senior Jason VanMaren added 14 points for the boys team, including two three-pointers, and Jonah Freese scored nine points. Junior Jordan Jackson scored eight points in the Braves' first game of the season, and juniors Travis Dooley and Anthony Kubas each added six points. Senior Tyler Howell finished with four points.
Bonner Springs jumped out to a 21-11 lead after the first quarter, powered by nine points from Twombly, a transfer from Lawrence High. In the second quarter, a three-pointer from Dooley before the halftime buzzer capped off another 21 points by the Braves, by that point well on their way to victory.
Not to be outdone by the boys, the girls team dominated Turner, 61-25, in the first round of the 2012 Cardinal Invitational tournament in Eudora.
Sophomore Mikaela Bennett led the way with 18 points, hitting 10 of 15 free throws.
In Eudora, the girls burst out to a 25-2 lead at the end of the first quarter and didn't look back. Junior Kennedy Bizzell added 10 points, and Abrise Sims scored eight points with seven rebounds. Senior Haley Hoffine led the Braves with eight assists and four steals to go with five points and five rebounds. Sophomore Kaleigh Taylor scored five points and added seven rebounds.
Tuesday marked the return to the court of senior Anna Deegan, who suffered an ACL injury during soccer season in April. In the weeks leading up to the season, Deegan had said she expected to miss the first week of play, but upon returning Tuesday showed little rust. Deegan led the Braves with 13 points and six rebounds in a 62-53 victory against Paola. Meanwhile, Sims put up another impressive performance, also finishing with 13 points after knocking down four three-pointers.
A balanced attack led the Braves to victory with both Hoffine and Taylor adding 10 points. Hoffine also brought down four rebounds and came up with five steals. Taylor added five rebounds and freshman Julianne Jackson scored six points, five rebounds and three steals. In what Oakes called a "very tightly officiated game," both teams combined for 58 free throw attempts. The Braves converted 15 of 31 shots from the line. Tasked with replacing a wealth of experience from last season's state tournament fourth-place team, Oakes has so far been pleased with his new-look squad.
"I have been really impressed with our transition game and offensive outputs from the first two games," Oakes said.
The Braves will meet a Piper team that Oakes said did a good job of slowing BSHS down on offense last season, but, again, this year's team is moving at a faster pace.
"This team is a different animal," Oakes said. "We have five kids who can really get up and down and a solid bench who comes in and keeps it going."
With a chance of their own to advance to the Panther Invitational final, the boys team saw Howell step up in a big way. Howell led the Braves (2-0) with 12 points — eight of which coming in the third quarter.