Growing pains: Young
BLHS

boys team no match for pressurized

SM

South defense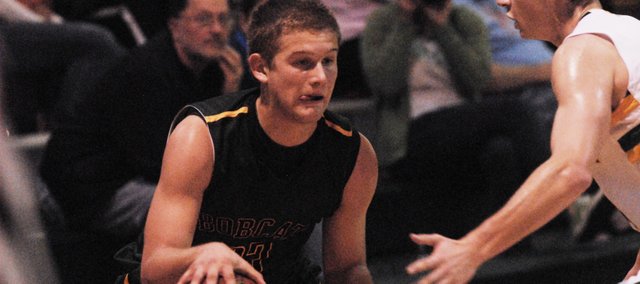 Overland Park — It's been awhile since a Basehor-Linwood boys basketball team lost as decisively as Tuesday's 63-37 defeat at Shawnee Mission South. Not coincidentally, it may have been even longer since the Bobcats encountered a defense that pressured them as much as the Raiders.
Possessions ended before they started, or soon after. The Raiders swarmed the Bobcats (1-1) all night, forcing 23 turnovers and turning them into points on the other end.
"We didn't see that all year last year," BLHS coach Mike McBride said. "Not that kind of pressure. I'm sorry, I hope nobody takes offense to that, but we literally didn't see that kind of pressure all year. Would that have beaten us last year? Tonight? Probably."
Beginning the year without 6-foot-6 senior Ben Johnson, who is out until at least after winter break resting a sore knee, the task of felling the No. 3-ranked team in Class 5A was tall enough for a young Bobcats squad still developing.
Tuesday's result wasn't exactly what McBride said he was hoping for, but he also didn't exactly exit to the team bus in a sour mood.
"It happens sometimes," McBride said of the loss. "We got what we needed to out of it because we played hard for 32 minutes. We kept trying where a lot of teams would've quit. And they kept giving me things to work on."
Junior Chase Younger finished with 13 points, six rebounds and four assists — all team highs.
Entering the season, the question was how BLHS' junior guards would adapt to facing opposing teams' top defenders. Against a team whose lineup was filled to the brim with such defenders, Younger drew the praise of a coach eager to see how he and fellow juniors J.P. Downing and Zach McNabb would react.
"The thing I liked was in the fourth quarter he was still passing the ball," McBride said. "He tried to be unselfish. He didn't continue to try to force everything. And you know, he did his thing and the thing I liked about it is he's out there playing obviously the best defense we'll probably see all year, and he still found ways to score."
A high school player — and a guard, no less — could hardly be faulted for wanting to have the ball, to create opportunities on his end of the court, to score. But even as the majority of BLHS' scoring came from Younger, the junior was not ignorant of what he was up against.
"I just tried to look for my teammates and not try to force things," Younger said. "Because it wouldn't be good just try to force the ball against that good of a defense."
At one point in the first quarter, seven straight BLHS possessions ended in turnovers and the Bobcats fell behind 17-6 entering the second quarter. Junior Zach McNabb, who finished with seven points, scored five points off two consecutive baskets to start the second quarter and cut the Bobcats' deficit to 17-11. That would be as close it would get, however, as the Raiders exploded for an 11-0 run catalyzed by two-straight three-pointers.
SM South carried a 35-18 lead into halftime that would further swell with an 8-2 run to open the third quarter. BLHS fell behind 50-23 late in the third quarter after four consecutive possessions ended in turnovers, which SM South converted into more points.
With numerous possessions meeting premature ends, the need to pivot back downcourt and defend the Raiders took its toll.
"We got tired on defense and then instead of running the offense on the other end, we tried to force it on the offensive end, too, and we got worn out," McBride said.
In players like Younger and Downing, McBride has a nucleus of experience around which he can build the rest of his team. With Johnson out, the opportunity — and need — for others to step into consistent roles is as present as ever.
"Those two have got to be patient that I as a coach can get those other guys to where we need to be," McBride said. "We're very talented — we just weren't ready for that game yet."
The hope is that Tuesday's experience steels the Bobcats' less experienced players and further develops their junior guards. When Johnson returns, McBride said, BLHS should have a group of guards that knows how to control a game.
"The fun thing for me is if these guards get as good as I think they can," McBride said, "(Johnson) ought to have a heyday inside."
The Bobcats return to play on Tuesday at home against Bonner Springs in a boys and girls doubleheader.