League Leaders: organizers create youth basketball legacy
Volunteers mark 30 years of Kerry Roberts basketball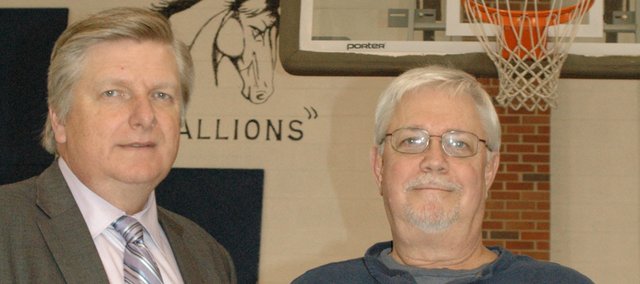 Ken May has had a big impact on many area youths, including Michael and Brad Wheeler.
The brothers came to know May when they played in the Kerry Roberts Memorial Basketball League in its formative years, and both now coach in the league.
"He's the reason why I coach basketball, actually, coaching my daughter," Michael Wheeler said of May. "… I still to this day will run the same offense, the same defense, the same out-of-bounds plays he ran. He's touched so many kids' lives through the years who he's coached. He was always hard on the kids, but they always learned a lot."
May has been the lead organizer for the league since its first season 1982-83, and for the last 15 years, Fred Stanbrough has assisted him in organizing the league, which has grown from 12 teams of fifth- and sixth-graders mostly from Bonner and Basehor to serving up to 460 youth from all around the area, including De Soto, Lansing, Linwood, Piper, Shawnee and Tonganoxie, with games in December and January.
This year there are 32 teams with more than 300 players. It also will mark the first time May has not served as a team coach as well as running the league.
The league began following the death of Kerry Roberts, young son of Keith and Karen Roberts who had died from injuries suffered while practicing baseball.
"Keith came to me wanting to do something in the name of his son," May said. "I said, 'Well, we need a youth basketball program; we keep going to the Y clear into Kansas City, Kan., and the program there isn't very good.'"
So for the first five years or so, the Roberts family donated funding to get the league going with the help of the Optimist Club, of which May and Stanbrough are members, until it became self-sustaining, making a slight profit that funds the club's scholarship fund.
The league has had its ups and downs over the years, first expanding from the fifth and sixth graders to grades three through six, with both recreational and competitive leagues. It almost died out in the early 1990s, when it became difficult to secure various Optimist Club members for help with the league when needed, so May recruited Stanbrough to help full-time.
"Both my daughters played in it, and I've coached other teams, and it just seemed like, 'OK, I can help you out with this," Stanbrough said. "I didn't think it would turn out into this long of a deal, but then Ken's done it twice as long as I have."
Planning for the league begins in September, when May and Stanbrough begin to advertise, sending flyers for every Bonner Springs and Basehor elementary school student, who make up the bulk of the league, and sending information to schools in surrounding cities. Sign-ups begin in October and practices in November.
Full teams or individuals may sign up, so it is up to May and Stanbrough to assign individual players to teams that will match their skill levels. Teams nowadays sometimes have sponsors, but they are generally identified by the colors on their league-provided uniforms.
Once games begin, May and Stanbrough can be found at the CMS and BSE gyms, respectively, from 8 a.m. to 5:30 p.m. for the 11 Saturdays during the season.
"We control the practices for the Bonner kids ... during the week; we don't have to be there, but we'll go around and help them out," May said.
May also takes photos of games and runs the league's website, updating weekly scores and standings. All this for very little compensation.
"We pay ourselves $60 a week ... so it's not like we aren't getting anything," May said. "We don't do it for the money, that's for sure. It's just fun."
Both volunteers say giving up their Saturdays in the winter isn't so bad — even when May had Kansas University basketball season tickets and it caused him to miss some games.
"I got used to it early on, coaching my daughters, where every weekend we were playing and it would be a Saturday and a Sunday," Stanbrough added. "So now it's just a Saturday, so it's like half time — it's not bad at all."
May now is seeing those, like the Wheelers, who were once players and now are coaching their children as well as other league teams. Michael Wheeler said he began coaching at age 19.
"Ken took both my brother and I under his wing at that point," Wheeler said. "We were just going to do it for fun for a year or two, and I ended up coaching for 10 years."
Stanbrough has created his own legacy of coaching, as his own daughters have now coached basketball; his daughter Kelsey is now the freshman girls basketball coach at Bonner Springs High School.
That's a big part of what makes the volunteer work enjoyable for May and Stanbrough.
"It's fun to see them start at such a young age and fundamentally," Stanbrough said. "They'll get better and better, and to see them move on to middle school and high school level … that's the most fun for me, is to see them when they get to high school and they still like playing and having fun and being successful."