Local gifts for all on your list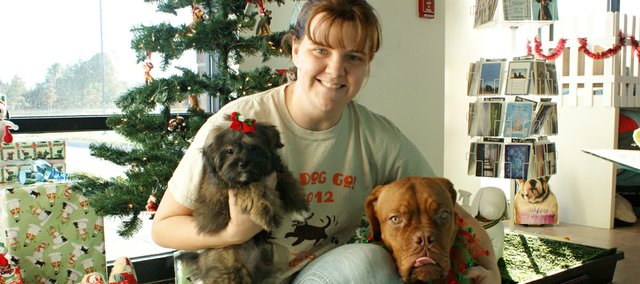 * Did we miss a gift idea? Email editor@basehorinfo.com and let us know.
Contact
• Basehor Awards and Trophies, 18501 153rd St., 913-724-4500
• Basehor Historical Museum, 2812 N. 155th St., 913-724-4022
• Falcon Lakes Golf Course, 4605 Clubhouse Drive, 913-724-4653
• Holy-Field Vineyard and Winery, 18807 158th St., 913-724-9463
• Jacob's Toy Box, jacobstoybox.com, jacobstoybox@gmail.com, 913-624-4543
• The Medicine Store, 15415 Pine Hurst Drive, 913-724-3666
• Orscheln Farm and Home, 15256 Wolf Creek Parkway, 913-728-2014
• Signature Sausage, 14500-B Parallel Road, 913-724-4400
• Wagg'n Tails Day Spa, 15630 Pinehurst Drive # 1, 913-662-9297
With Christmas only a couple of weeks away, there are no doubt some last-minute shoppers in town. But instead of making a trip into Kansas City, why not check out some of the great gifts available just down the street? There are sure to be some surprising goods you didn't know were available at local Basehor businesses.
Over the past week, the Basehor Sentinel has visited local stores to help you find gifts for all those people on your list.
Children
If you'd like to give a truly one-of-a-kind gift for a special child in your life, check out new business Jacob's Toy Box. Christine Henderson makes dolls, doll clothes and stuffed animals at her home in Basehor. Check out all she offers at jacobstoybox.com or email her at jacobstoybox@gmail.com.
Another spot for toys, and one you may not think of, is Orscheln Farm and Home, 15256 Wolf Creek Parkway. Orscheln's carries dolls, toy trucks and tractors, puzzles, games and candy.
Foodie
There's no lack of interesting gifts to tempt the taste buds of the food lover on your Christmas list.
Signature Sausage offers a huge selection of sausage, bratwurst, hot dogs, burgers and more in its store at 14500-B Parallel Road. Owner Steve Sessions puts a twist on typical fare by adding cheeses, spices and other unique ingredients to create such items as the bacon-cheese-stuffed burger and apple bratwurst. He also carries olive oils, marinades, seasonings and beef jerky. For more information, visit signaturesausagecompany.com or call 913-724-4400.
In addition to locally made sausage, Basehor's Holy-Field Vineyard and Winery, 18807 158th St., offers several exclusive products made with its wine. Its wine-filled chocolates and wine-roasted coffee beans offer a new take on the usual food gifts. Holy-Field also sells San-Man Garden Jelly, which is made by a mother-daughter business in Basehor.
Lovely lady
The Medicine Store offers a wide variety of jewelry, purses, scarves, home décor and candles in its Basehor location at 15415 Pine Hurst Drive. If your lady loves silver, Orscheln's sells Montana Silversmiths jewelry. Or help someone you love relax with Monastery Scents soap, made by the Benedictine Sisters of Clyde Monastery in Clyde, Mo., sold at Holy-Field Winery.
Furry friend/animal lover
Wagg'n Tails Day Spa, 15630 Pinehurst Drive No. 1, offers more than grooming for pets. Specializing in ecofriendly products, Owner Amber Anderton sells beds and toys made from organic, sustainable or recycled materials, as well as healthy, homemade treats. Wagg'n Tails also offers a wide selection of stylish collars, clothes and accessories.
Whether you're shopping for a dog, cat, rabbit, horse or even a chicken, Orscheln's sells a variety of food, treats, toys and accessories. For avid birdwatchers, the store has many varieties of specialized feed to go along with its bird feeders in every shape and size. For friends with dogs, gift certificates are available for the store's dog wash station, which is a bit like a car wash for dogs.
Wine connoisseur
With Holy-Field Vineyard and Winery in town, the wine connoisseur on your list will be pleased with your present. Carrying wine-themed apparel, accessories, specialty glasses and more, there's no shortage of gifts at the winery.
Make the gift of wine extra special with a customized gift box from Basehor Awards and Trophies, 18501 153rd St. Owner James Smith can engrave the top of the wooden box, which also includes a corkscrew and several other wine tools. For more information, visit basehorawards.com
Sports nut
Whether you know a Basehor Bobcat, Kansas University or Kansas State University follower, The Medicine Store carries school apparel and jewelry for sports fans to show their pride.
For the sports nut with a pet, Wagg'n Tails Day Spa sells KU and K-State apparel to deck out a dog with school spirit. If they need something to drink while watching the game, Holy-Field Vineyard and Winery sells KU, K-State and University of Missouri wine and pilsner glasses.
If your sports nut is in need of a display case for baseball cards or autographed memorabilia, Basehor Awards and Trophies can help.
Outdoor enthusiast
There's no need to travel to a large outdoors store for the hunter or fisher on your list. Orscheln's sells hunting apparel, tools and supplies, as well as ammunition. In addition to the gear your hunter needs, you can stock them up with fish batter, soup mixes, jerky and other snacks great for outdoorsmen on the move.
Basehor buff
The Basehor Historical Museum has an array of Basehor-centric gifts for history lovers. Featuring paintings of early Basehor, greetings cards with sketches of historic churches and landmarks, and collector bricks, the museum can provide gift recipients with their own piece of history for Christmas. The museum also sells Basehor license plates, books about Basehor and Kansas history, and afghans embroidered with likenesses of famous landmarks and historical figures.
The man's man
For the man on your list who worships his ride and takes pride in his toolbox, Orscheln's sells truck accessories, tires and tools. If it's barbecue he loves, pair a grill or smoker from Orscheln's with some meat from Signature Sausage.
Golfer
In addition to golf apparel, clubs, tees and balls, Falcon Lakes Golf Course offers its Proformance Golf 4-Round or 8-Round Cards, which allow players to enjoy various area courses. The card allows a golfer one round each at Falcon Lakes, Royal Meadows, Stone Canyon and Painted Hills Golf. The 8-Round Cards allow two rounds at each golf location. For more information, visit falconlakesgolf.com.
Newlyweds/newly engaged
Basehor Awards and Trophies can help the new couple commemorate their special occasions with engraved wine glasses or champagne flutes, mugs, picture frames or even wine bottles.
New parents
The Medicine Shop carries several local crafters' baby apparel and accessories, featuring onesies, tutus and hair bows. Or you can treat the new baby with a handmade doll or stuffed animal from Jacobs Toy Box.
Help parents remember their first Christmas with their little one by a personalized ornament or picture frame from Basehor Awards & Trophies.