Bonner Springs boys fall to Piper in Panther Invitational final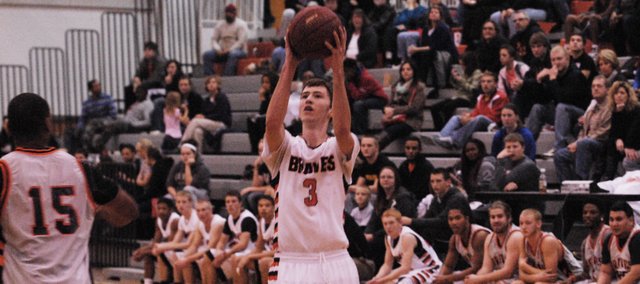 Piper handed the Bonner Springs boys basketball team its first loss of the season on Friday, a 64-61 defeat in the final of the 2012 Panther Invitational in Paola.
For the second time in three games, BSHS senior Austen Twombley led the Braves in scoring with 15 points, including three three-pointers.
The game was close throughout, with both sides trading leads and momentum swings. BSHS ended the first quarter up 16-12, but a 22-point second quarter gave the Pirates a 34-31 halftime lead.
Junior Jordan Jackson added 12 points for the Braves, and both senior Logan Terrell and junior Zshavon Dotson added eight points, with Dotson hitting two three-pointers.
Senior Brandon Moore added seven points, and sophomore Brenden Dotson scored five.
After the game, Twombley was named to the first-team all-tournament team and senior Tyler Howell was recognized on the second team.
The Braves return to action on Tuesday at Basehor-Linwood.