Shorthanded Bobcats have best tourney showing in some time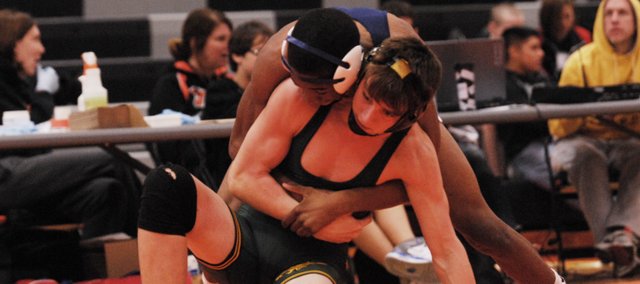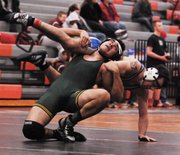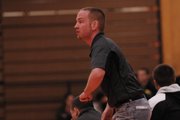 Shawnee — Last season, just one Bobcat wrestler placed in a tournament. This season, which is barely more than a week old, five Basehor-Linwood grapplers now own that distinction.
BLHS coach Tyler Cordts sent just eight wrestlers to the Cougar Invitational at Shawnee Mission Northwest — with two of the team's top leaders, Sammy Seaton and Cory McCleary, out of the tournament because they had ACT exams that morning — yet sent more than half to the medal stand on Saturday.
"With two big guns sitting at home today, to do what we did today was incredible," Cordts said.
Junior Josh Summers (9-2) won the tournament's 138-pound championship, holding his opponent to the mat for the match's final 90 seconds to secure the winning points.
Trailing 3-2 late in the third period against Washburn Rural's Stephen Stamps, Summers clinched three points in the final moments to claim victory.
"Josh Summers looked fantastic the whole tournament," Cordts said. "He was down and came back to hit a move we'd been working on in practice and was able to come from behind and pull out a last minute victory."
Sophomore Shayne Morris (106 pounds), junior John Hopper (152 pounds) and sophomore Zack Carter (195 pounds) each placed second in their respective weight classes.
Meanwhile, junior Justin Summers (9-3) won his third-place match at 132 pounds after earning a 10-0 decision against Free State junior Maurice Jacobs.
Overall, the Bobcats placed sixth out of 12 teams with 111 points.
Morris (7-3) advanced to his first tournament final after earning an 8-2 decision against Dodge City freshman Howard Johnson.
"He beat an absolute stud in the semifinals," Cordts said. "A tough, fast, strong kid. Shayne wrestled extremely smart and patient and took it to him and later wrestled tough in the finals."
Olathe Northwest sophomore Doug Newcomb pinned Morris in the finals.
Hopper (9-2) began the tournament with a pair of pins against Class 6A opponents before coming up just short against undefeated Royal Valley senior Tanner Ogden in the final, where he dropped a decision.
"He pushed probably the best kid in the whole tournament to the brink of exhaustion and almost beat him at 152 pounds," Cordts said. "He was just fantastic there."
Carter (8-3) also put himself in position to pull off an upset in the 195-pound final. Competing against Shawnee Mission Northwest junior Mario Galvan, the top-ranked 195-pounder in Class 6A, Carter was one takedown away from victory in the closing moments.
The Bobcats return to competition at 9 a.m. Saturday in Emporia. Stay tuned for the latest results.
This story has been updated to reflect the correct date and time of Saturday's competition in Emporia.