Johnson scores 20 points in
BLHS

girls' 59-45 loss to Bonner Springs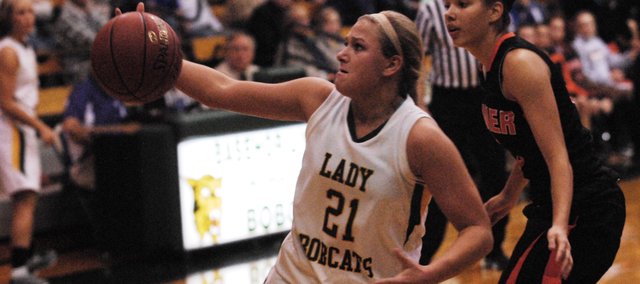 It almost didn't seem fair.
Basehor-Linwood senior Jamie Johnson had just sank her fifth three-pointer of the night to return the Bobcats to a single-digit deficit when Bonner Springs senior Haley Hoffine found the ball in her hands as she raced upcourt from under her own basket, the third quarter nearing its end.
She didn't even make it to midcourt before the impending buzzer forced her to heave the ball at the opposing basket, where it swished through the net.
Bonner Springs 59, Basehor-Linwood 45.
"I've been on the other end of it," BSHS coach Clay Oakes said. "It just deflates you as a team. You can see that took a little air out of them a little bit there."
The Bobcats (2-1) opened the game with a 7-2 run before Hoffine tied it at the end of the first quarter. The two sides played it close through halftime, albeit in sloppy fashion with each team committing a string of consecutive turnovers.
But after the Braves (3-1) broke open a 23-22 halftime lead to go up by 12 points late in the third quarter, frustration grew amongst the Bobcats. And after watching the momentum of Johnson's 20 points being negated by Hoffine's Gatorade commercial audition?
"When she made that shot, it stole that momentum and put that kind of fear in the back of our heads, thinking its not going to be our night," BLHS coach Jason Tatkenhorst said. "That really hurt us for the start of the fourth quarter, that's for sure."
BSHS senior Anna Deegan led the Braves with 20 points, scoring nine of BSHS' 13 second-quarter points. Hoffine contributed 13 points, while freshman Julianne Jackson scored 11 points.
Johnson's 20 points were a team-high for the Bobcats, who also received a pair of three-pointers from sophomore Madison McDowell and one in the fourth quarter by junior Alex Gorman. BLHS junior Victoria Smith scored nine points with five rebounds and is a player Tatkenhorst said has developed into one of the team's top inside options. Smith and seniors Amber Garver and Samantha Rutherford combined for at least 14 rebounds against the Braves.
As the game inched further out of reach at times on Tuesday, Tatkenhorst said, the Bobcats struggled to control their frustration. Meanwhile, in a game that Oakes said featured two evenly matched teams, the BSHS coach figured that if the Braves could get a handle on their own ball-control issues in the second half, they'd go a long way toward breaking the game open.
"We know when we take care of the ball we're a pretty darn good team," Oakes said.
The BSHS victory abated the sting of Thursday's 51-40 loss to Piper in the final of Cardinal Invitational tournament in Eudora. For BLHS, it stoked the Bobcats' hunger for a return to victory Friday at another league rival in Tonganoxie.
"We kind of have a bad taste in our mouth right after this game," Tatkenhorst said. "Not to take anything way from Bonner Springs — they did an excellent job and deserved to win this game. But in our minds, we feel like we're a lot better than the way we played."
BSHS sophomore Mikaela Bennett led the Braves with eight rebounds on Tuesday, and sophomore Kaleigh Taylor added five. Sophomore Abrise Sims came off the bench when Deegan got into foul trouble and added six points.
"(Abrise) did a great job guarding Johnson for us," Oakes said. "She made it tough for Jamie to get some open looks. She just did a super job for us out there."
With three games remaining for each until winter break, there's time for Tatkenhorst to refocus his team and for Oakes to further develop his into the contender that he thinks he has.
"To be able to come to their place and get a win out of it shows a lot for our young kids and is something to build on confidence-wise," Oakes said. "I told them it's going to be a growth process. By the end of the year, we're going to be a tough team. We're going to be someone that everybody's going to want to step on the court and play."