He can't miss: Younger lights it up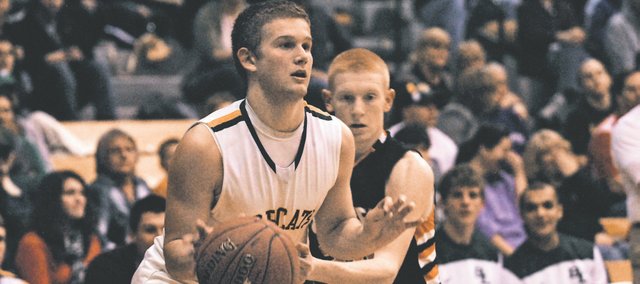 His point total is an easy place to start. Drop 39 points on a league rival three games into the season and it's tough to ignore.
But spend too much time focusing on Basehor-Linwood junior Chase Younger's stats in Tuesday's 65-48 victory against Bonner Springs and pivotal moments can be overlooked. Take, for example, Younger's pair of fourth-quarter interceptions of BSHS passes upcourt, both of which he turned into quick points that sent a once-five-point game well on its way to getting out of hand.
Or consider the spirit-killing nature of his four three-pointers: His first two answered a 4-0 BSHS lead capped by senior Tyler Howell's two-handed dunk in transition; his final two bookended his (so-far) career night in the fourth quarter, ending a brief run by the Braves.
"I've never felt anything like that," Younger said. "I was just feeling it. Just kept on shooting and still trying to look for my teammates."
The view from the opposing sideline?
"Chase had to be unconscious," BSHS coach Dan Streit said. "He was hitting everything he threw up."
Younger's 12 first-quarter points erased the Braves' only lead of the night and keyed a 14-2 Bobcats run. Coming off last week's lopsided loss at Shawnee Mission South, the Bobcats (2-1) conceded momentum to the Braves (2-2) in the opening moments of Tuesday's game.
But when Younger sank his initial pair of three-pointers in quick succession, BLHS coach Mike McBride said, the mood on the court shifted.
"That's what settled everybody down," McBride said. "We were lacking confidence, I'm sure, coming out of SM South, but when Chase hit those first two shots, you could just see everybody say, 'Oh OK, we're back in our world again."
The task of guarding Younger mostly fell on BSHS junior Jordan Jackson, whom Streit called one of the Braves' top defenders. Tuesday's result provided bulletin-board fodder for the juniors' next meeting.
"He lit Jordy up pretty well, and Jordy's vowed he wont get that many points next time," Streit said. "But give credit to Chase — he was on tonight. Their team wanted it more than we did."
Howell led the Braves with 16 points and nine rebounds, and senior Austen Twombley added 13 points.
Jackson, Twombley and senior Brandon Moore played central roles in a third-quarter run that led to the Braves trailing by as little as five early in the fourth quarter.
For the Bobcats, junior Tim Sanders added 10 points, followed by junior J.P. Downing's nine.
In the second quarter on Tuesday, when BLHS senior Matt Ogilvie went down with a deep knee bruise upon being pushed in the back inside the paint, the Bobcats were left without a senior on the court the remainder of the night.
With Ogilvie shelved and senior Ben Johnson out until after winter break, junior Broc Lindsay had to step up. His aggressiveness did not go unnoticed.
"His defense was awesome," McBride said. "He knew what he was supposed to do. Obviously he's come a long way."
McBride said after the game that Ogilvie suffered no structural damage to his knee and added that he was hopeful he'd have him back for Friday's game at Tonganoxie after a few days of rest.
The loss was the Braves' second straight, following a 64-61 defeat to Piper in the final of the Panther Invitational in Paola on Friday. BSHS will get a shot at redemption on Tuesday following Friday's game against Lansing.
Meanwhile, McBride saw enough out of the Bobcats to indulge for a moment in wondering what his team could accomplish playing defense as it did in the first half for an entire 32 minutes.
"We're not in shape enough to play that way for 32 minutes yet, and that's why we let them back in the game," McBride said. "But, man, if we can find a way by the last week of February to put that kind of pressure on for 32 minutes … I'm not guaranteeing anything, but we'll have a chance."
Of course, McBride added, this is still a young team, three games into its season at that.
Who knows what's in store even Friday.
McBride was pleased with his defense in the first half Tuesday, but watched it let the Braves back in the game in the second half. In Younger, he was impressed most of all with his ability to pile up numbers and find open teammates solely within the Bobcats' designed offense — but conceded that the junior won't always be there to pour in 39 points when a momentum swing is needed.
"That's part of youth," McBride said. "We'll see what these kids can do."