Bobcat girls lead early, but can't finish at Tonganoxie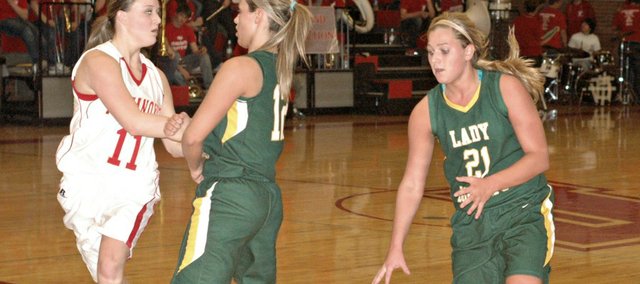 Girls KVL standings
League record, Overall record
Tonganoxie 3-0, 3-0
Mill Valley 2-0, 3-1
Bonner Springs 2-0, 4-1
Basehor-Linwood 1-2, 2-3
Lansing 1-2, 1-5
Piper 1-2, 4-2
Bishop Ward 0-2, 1-5
Turner 0-3, 0-5
Tonganoxie — Jamie Johnson led all scorers with 21 points, but the Basehor-Linwood girls couldn't overcome a sluggish third quarter in a 49-39 loss Friday at Kaw Valley League rival Tonganoxie.
The Bobcats (2-3, 1-2 KVL) found themselves in a back-and-forth affair early in the game, as neither team could establish control throughout the first half. THS led by a point at the end of the first quarter, but struggled to get shots to fall in the second. The Bobcats (3-0, 3-0) took advantage and used a late run to take a 25-21 lead into the locker room.
Basehor-Linwood's Jamie Johnson accounted for 12 of the Bobcats' first-half points. She made Tonganoxie pay from behind the 3-point arc, where she connect three times before the break. She finished with a game-high 21 points.
"We work hard to get her shots, but she's a player who can also create her own shots," BLHS coach Jason Tatkenhorst said of Johnson. "She's a tough girl to defend and most definitely knows how to score."
The momentum quickly shifted in Tonganoxie's favor after halftime, as the Chieftains outscored BLHS by a 16-5 margin in the third quarter. THS senior Jenny Whitledge, who had a double-double with 18 points and 11 rebounds scored eight in the period.
Basehor-Linwood struggled to create offense for the duration of the quarter, as they managed just one field goal.
"They played pressure defense and that might have got to us," Tatkenhorst said. "They were really rolling there in the third quarter. They probably had five trips in a row where they made baskets. We have to be smarter on our side and make them play defense."
The Chieftains extended their lead to 10 early in the fourth quarter, but Basehor-Linwood made things interesting down the stretch. The Bobcats whittled the deficit down to four in the final minutes, but THS senior Madee Walker knocked down four free throws to kill the comeback attempt.
BLHS will try to get back in the win column on Tuesday when it travels to Turner.
Score by quarters
Basehor-Linwood 10 15 5 9 — 39
Tonganoxie 11 10 16 12 — 49
Individual scoring
BASEHOR-LINWOOD — Jamie Johnson 6-20 5-6 21, Amber Garver 3-11 0-1 7, Victoria Smith 2-6 0-0 4, Marriah Clayton 1-5 0-0 3, Kara Stephens 1-3 0-0 2, Alex Gorman 0-8 2-2 2, Samantha Rutherford 0-1 0-0 Madison McDowell 0-6 0-0.
TONGANOXIE — Jenny Whitledge 9-15 0-1 18, Madee Walker 2-5 5-6 9, Katelyn Waldeier 3-6 2-10 8, Emily Soetaert 2-9 1-2 6, Hannah Kemp 1-6 3-7 5, Kara Banks 1-4 0-0 3, Sarah Ahart 0-1 0-0 0.