Friday night hoops: Deegan scores 30 in blowout, Lansing hands boys third straight loss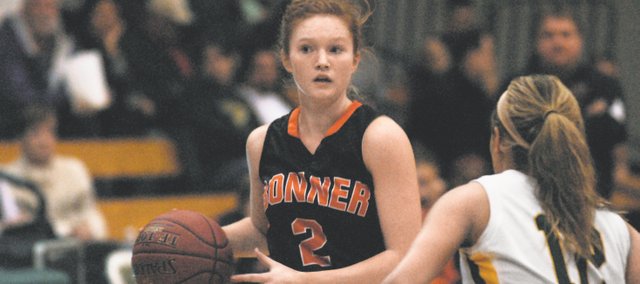 Between the Bonner Springs girls basketball team's speed and Lansing's size, the Braves' signature attribute this season won out Friday in a 63-32 victory.
Senior Anna Deegan scored 30 points and added three assists, and helped the Braves (4-1) open up a 23-7 lead after the first quarter.
"We pretty much took it to them from the get go," BSHS coach Clay Oakes said afterward.
Oakes said the Braves were able to get a lot of easy transition baskets on offense, certainly helped by the 18 steals BSHS was able to force against the Lions.
Sophomore Abrise Sims added seven points, and freshman Julianne Jackson and sophomore Kaleigh Taylor each scored six points. Jackson added seven rebounds and Taylor brought down four rebounds to go with two steals.
Senior Haley Hoffine accounted for the bulk of BSHS' steals, coming up with seven to go with four points and six assists. Junior Kennedy Bizzell rounded out the Braves' scoring with five points.
BSHS returns to action on Tuesday against Piper with a chance to avenge a Dec. 6 loss in the final of the Cardinal Invitational tournament in Eudora.
Lansing hands boys third straight loss
Lansing proved too much for the Bonner Springs boys basketball team, sending the Braves to their third straight loss with Friday's 71-35 defeat.
The Lions jumped out to a 22-8 lead after the first quarter, and held BSHS to just one basket in the final quarter.
Senior Austen Twombley led the Braves (2-3) with nine points and seniors Logan Terrell and Brandon Moore each added seven points.
BSHS will play host to Piper on Tuesday in a rematch of last week's Panther Invitational final in which the Pirates handed the Braves their first loss of the season.
Stay tuned to bonnersprings.com for more coverage.