Council updates 2012 budget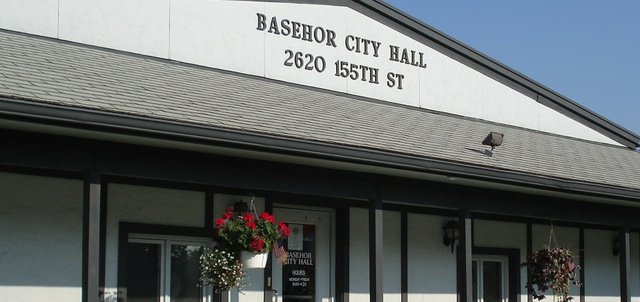 Basehor City Council updated its 2012 budget at its meeting Monday night by passing amendments to adjust for additional expenditures, giving the city the ability to spend funds not originally planned without additional tax levies.
With debt refunding, the city incurred debt service expenses that exceeded the original bond and interest and sewer budgets, but those additional expenses were offset by bond proceeds.
In addition to the bond and interest and sewer adjustments, funding for special parks and recreation was amended to add $15,000 for capital improvements to Field of Dreams, which raised that project's 2012 expenses from to $40,000.
Mayor David Breuer was absent from the meeting.
Also at the meeting:
• Council members approved updates to the city's personnel manual, including clarifying language about overtime pay during a week with a holiday; employee reviews to be done annually, with checkups six months after each evaluation session; and employees to be allowed to carry more vacation time over from one year to the next.
• The council approved a salary increase of $1,000 a month for Interim City Administrator Lloyd Martley, who is also Basehor Police Chief. Council President Travis Miles said he thinks it's necessary to increase Martley's compensation for what was supposed to be a temporary position. Martley has been serving as interim city administrator for 15 months.
"It's my opinion that he's gone over and above the call of duty in that position," Miles said. "I think it's fair compensation for the responsibility he takes on."
• Council members approved a construction release agreement for council member Brian Healy after replacing a grinder pump at his home. Replacing the pump required a large excavation and removal of landscaping, for which the city is obligated to reimburse the homeowner for repair. Healy agreed to do the work himself, releasing the city and maintenance crews from the repair. The city estimated the repair cost and will reimburse Healy $1,200. Healy abstained from the vote.
• Members passed a resolution authorizing the January 14, sale of general obligation bonds from 2004 and 2005, which could save the city an estimated $388,000. City Clerk Corey Swisher told council members if the market turns sour, the city can revoke the sale within an hour of the sale time, 10 a.m. January 14, and can wait until rates are more favorable.
• The council approved a revision to the legal descriptions of Briarwood Estates West Subdivision lots 1, 2, 54 and 55 for the process of annexation.
Correction: The sale of general obligation bonds from 2004 and 2005 is set for January 14, 2013.