BLHS

girls end slide with 54-29 win at Turner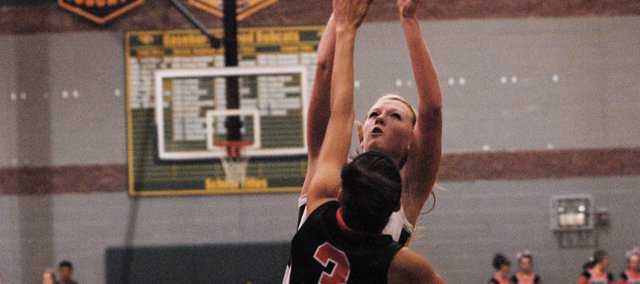 Kansas City, Kan. — The Basehor-Linwood girls basketball team made easy work of Turner in Tuesday night's 54-29 victory thanks to a huge fourth quarter.
The Bobcats outscored the Golden Bears 23-4, scoring on 12 of their 18 possessions in the quarter.
Basehor-Linwood was led by Victoria Smith's 19 points and Jamie Johnson's 17, but head coach Jason Tatkenhorst called it a "quiet 17."
"It's good to have an inside-outside combination," Tatkenhorst said.
"She wasn't feeling very good all day, but she's a gamer," Tatkenhorst said of Johnson, who scored eight in the second quarter. "If there's a chance for her to put the uniform on that day no matter how she's feeling, she's going to play."
He said his team did a good job of settling down and not taking the outside shot, but instead looking for Smith, who scored seven in the first quarter and 10 in the fourth quarter. Tatkenhorst added that he thought his team didn't do enough of that last week and might be a reason it lost to Tonganoxie and Bonner Springs.
The woes continued in the first half and stretched into the third quarter as the Bobcats were having trouble scoring.
It was a tight first half, with Basehor-Linwood leading by one at the break. Unable to get anything going in the third quarter, Tatkenhorst decided to substitute his entire oncourt lineup just two minutes into the quarter after it committed its third turnover in that same time.
"I didn't think we did anything wrong in the first half except shooting the ball — we had free throws; we had two-foot shots; we had five-foot shots — we missed them," Tatkenhorst said. "I think the first few minutes of the second half, we were still frustrated with our shooting and that led to a few turnovers. We're better than that."
The final 12 minutes of the game were much better for the Bobcats, who started to pull away from Turner.
A big reason was Turner's McKenna Mortell — who scored 13 and shot about 65 percent of Turner's attempts — picked up her fourth foul.
Whenever there was a chance, she was subbed in for offense and out for defense.
Tatkenhorst thought his team defended her well in the half court. They knew she was capable of scoring in bunches because she scored 29 last week against Piper.
"I think (Turner's McKenna Mortell picking up her fourth foul) gave us some confidence," Tatkenhorst said. "We weren't too worried about her because we started to score. Our confidence went up and it was everybody on our team making jumpers."
He said if his team played like it did in the final 12 minutes Tuesday, he doesn't see why the Bobcats can't win some big games. They played tight defense all game, forcing more than 30 turnovers, but the Bobcats didn't reward themselves.
Tatkenhorst is looking forward to break, but before that, Basehor-Linwood plays at Topeka-Hayden. He said it will be a good test and opportunity. He just wants Christmas to come so he can resume practicing.
"With a new coach, we've done OK, but we need to get into practices," Tatkenhorst said. "We need to keep working on our offense. The first few weeks of practice, we worked on our offense and now you can see we need to work on our offense."