Bonner residents enjoy ever-expanding light display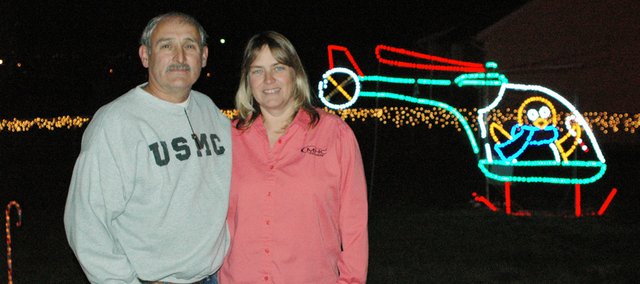 Until about five years ago, Buddy and Sharon Green didn't really put up Christmas lights — quite the difference from this year's display that they estimate contains about 50,000 lights.
"It started one year, one of the grandkids wanted to put lights outside, and we realized we didn't have any," Sharon Green said. "So after Christmas, we went and bought some on clearance. And then the next year we did more, and the next year, we did more. And now, it's a hobby, almost."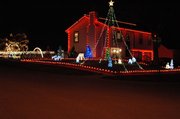 The Greens this year are inviting the community to drive by their home at 623 S. Deerfield Drive to check out their Christmas light display, which is coordinated to music played through speakers all around their property.
Improving the display has become something of an obsession, and they try to add to it each year.
"Christmas night, we're out running around to any stores that are open to try to be the first to get clearance," Sharon said.
"We don't really want to make it real gaudy-looking, but we want it to look different," Buddy added.
They also frequently drive to view other displays and get ideas for their own.
"We see things, and I think 'Well, I can tweak that just a little bit and make it work here,'" Buddy said.
The Greens' particular interest is making their lights flash in a coordinated "dance" to music. This is the first year of new system they purchased to make the lights dance. Buddy is in charge of the light elements — which includes fabricating some of his own — and Sharon is in charge of the computer program that runs the lights.
"He tells me what he's going to put out in the yard, and then I have to try to figure out how to make the music coincide and make the dance fit whatever he puts up," Sharon said.
Since their house is on the corner of three streets, the Greens get to take advantage of views of their front yard, side yard and even back yard from 132nd Street.
"We keep joking with the neighbor that if we continue to expand, we're going to be taking over her yard," Sharon said.
They say they've tried a system that broadcasts the music on a radio frequency, so people can listen to it in their cars and it will be less intrusive to neighbors, but those systems won't broadcast both in front of and behind their house. They've checked with the neighbors, who don't seem to mind the music, and the Greens try to turn down the volume in later hours of the display, which now runs from 5:30 to 10 p.m. through the end of the year.
Last year, Buddy tried to count the number of lights and came up with nearly 25,000. He has not actually counted this year, but he thinks he has doubled the number of lights, due in part to the growth of the trees in their yard.
The display includes a couple of inflatables, the "mega-tree" of lights on a flag pole, reindeer and Christmas trees, candy canes, and one large back yard element that gets a lot of attention.
"It seems as though the big hit with everybody that walks by and who you talk to in the neighborhood is the helicopter with a penguin sitting in it," Buddy said. "I bought it at an outlet store, and I didn't really want it but the guy made me such a deal on it, I thought, 'Well, I'll bring it home.' I put it in the yard and man, everybody loves it."
Buddy started putting up lights this year two weeks before Halloween and finally got everything up and working about 2 p.m. on Thanksgiving Day.
"So we could do what we call our 'Yard Lighting' instead of the Plaza Lighting," Sharon said.
Feeling proud of this year's display, the couple thought they might enter a light contest formerly put on in the community, but they discovered it wasn't taking place this year. So they sent a letter to the editor to The Chieftain trying to promote themselves. A big part of why they enjoy creating display is seeing people's reactions, they said.
"Everybody's like, 'Oh, I told my family to come out,' or 'Oh, I told so-and-so to come out,'" Sharon said. "The neighbors drive by and honk and wave … It's the anticipation of, what's it going to look like this year?"
"We have people who come up and stand under the tree and take pictures under the tree," Buddy added. "I enjoy watching people… and a lot of the kids really love it."