BSHS

boys throttled by Piper, continue search for chemistry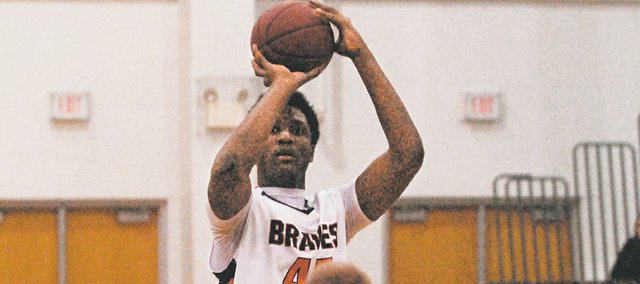 The Bonner Springs boys basketball team finds itself at a crossroads after Piper throttled the Braves, 67-43, Tuesday for their fourth straight defeat.
"We were playing dead," senior Tyler Howell said. "It just seemed like we weren't ready to play."
Howell was about the only player to receive plaudits from BSHS coach Dan Streit after Tuesday's showing. Howell scored seven points with 12 rebounds, and responded to Streit's demand that he be a constant presence in the paint — the Pirates sent Howell to the line for 15 free throws.
It's just the composition of the rest of the Braves' starting five that's less certain at this point.
"I think, really, a lot of it comes down to we're still fighting chemistry issues," Streit said.
Streit added that he's still trying to find a lineup of five players willing to buy in to the program, instead relying on sending by default the team's top five athletes out on the court thus far.
Piper (6-1, 3-1) ran all over the Braves (2-4, 0-3) for scoring runs of 8-2, 16-3 and 9-0 in the first half and held BSHS without a basket for nearly eight minutes at one point. The Pirates' lead swelled to 30 with 5:10 left in the third quarter after Piper went on yet another run, 8-1, to start the second half. The Braves did rally for a 9-1 run to even the third quarter scoring at 15-15, but by then had dug too deep a hole.
"It's hard to bounce back from that if you're getting beat out by that many," Howell said. "You're going to hang your head a little bit."
The Braves have now opened league play with three straight blowout losses to teams in Basehor-Linwood, Lansing and Piper that Streit said shouldn't be double-digits ahead of BSHS.
"They aren't that much better than us," he said, "but they've definitely been showing it on the court."
Junior Jordan Jackson scored all of his seven points in the first quarter, a team-high until junior Zshavon Dotson entered in the second half and hit two three-pointers to finish with eight points.
Seniors Jason VanMaren and Brandon Moore each added six points. Meanwhile, the Pirates held the Braves' leading scorer, senior Austen Twombley to four points.
The Braves were without senior Logan Terrell and junior Travis Dooley, who collided during Friday's 71-35 loss to Lansing and sat out Tuesday's game to allow stitches on their heads to heal. Further depleting the Braves' reserves, sophomore Brenden Dotson left the game after crashing to the floor in the second quarter. Streit said he was hopeful that Terrell and Dooley would be ready for Thursday's game at Turner and said that Dotson's injury is awaiting further evaluation.
Thursday's trip to Turner represents a chance to right the direction the Braves' season has taken prior to winter break, but Howell knows simply ending the losing streak won't be a panacea.
"It would be good, but that's just the beginning," he said. "Because we're losing now and we need to come back after break and still work."
Even Howell, whom Streit said stepped his game up on Tuesday, knows what he needs to correct: free throw shooting. Although the Pirates afforded him plenty of freebies — 15 of the team's 26 attempts — Howell sank just five.
"I wasn't hitting them at all," Howell said. "I definitely need to get in on Sundays and work on them. My coaches tell me they're going to foul me, so I'm going to be at the line a lot. I didn't think it'd be that much, but I've got to be prepared for that."