Basehor news: A year in review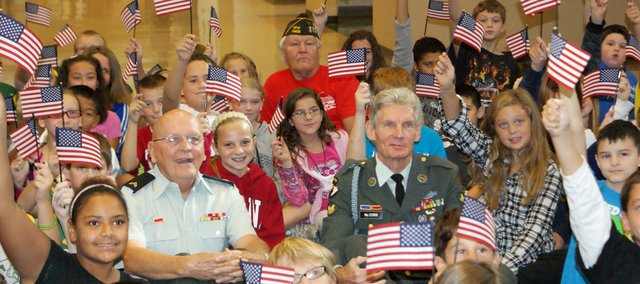 It was a busy year in Basehor. Between city council recalls and national education awards to new business and major infrastructure and safety improvements, Basehor keeps moving.
Now that we're prepping for 2013. the Sentinel is taking a look back at 2012's biggest stories.
City council recall
Basehor residents turned out to vote in a contentious recall election Feb. 28 to recall Mayor Terry Hill and City Council members Dennis Mertz and Iris Dysart.
In great numbers and by a wide margin, Basehor residents decided to clean house at City Hall, throwing out half of the city's elected officials. About 65 percent of voters opted for Hill's recall, 61 percent for Mertz's and 59 percent for Dysart's.
According to the county clerk's office, 909 Basehor residents voted in the election — casting a much higher volume of votes than had been seen in a local election in more than half a decade.
Groups of residents had mounted dueling efforts to remove the officials from office, with one committee of residents taking aim at Mertz and Dysart and the other seeking to recall Hill. The recall petitions all centered on former City Administrator Mark Loughry and his firing, which Mertz and Dysart supported and Hill opposed.
Hill, Mertz and Dysart became the first elected officials ever to be recalled in Leavenworth County.
The group opposing Mertz and Dysart had alleged that the two council members had violated the Kansas Open Meetings Act by having discussions related to Loughry's firing outside of an open council meeting. Both said that charge was false.
The committee seeking Hill's recall, meanwhile, accused the mayor of improperly revising Loughry's contract to give him additional health benefits and authorizing a $50,000 severance check to Loughry without approval from the City Council. The mayor denied those charges, saying both actions were lawful.
The three remaining council members — Fred Box, David Breuer and Travis Miles — were then charged with appointing one of themselves as council president, and that person would ascend to mayor. That new mayor can then appoint three replacement council members, with approval from the rest of the council.
Fred Box resigned after a heated council work session March 5, leaving Council member David Breuer to take the position of mayor and Travis Miles council president. After accepting applications from Basehor residents, Breuer and Miles appointed four new council members: Ty Garver, Brian Healy, Dick Drennon and Vernon J. Fields.
Blue Ribbon
Basehor-Linwood High School was named a National Blue Ribbon School by U.S. Secretary of Education Arne Duncan in September, one of six schools in the state to earn the honor for 2012.
Across the country, 269 elementary, middle and high schools were honored. Basehor-Linwood was one of four public high schools from Kansas on the list.
"We are in very good company," said Basehor-Linwood Superintendent David Howard.
The Blue Ribbon honor is awarded to schools that score among the best on state assessment tests, as well as to schools with higher levels of disadvantaged students that make sizable improvements.
Howard said much of the credit should go to BLHS Principal Sherry Reeves, other administration and the school's teachers for a focus on tougher standards in recent years.
"There's been a concerted effort to improve academic rigor at our high school," Howard said.
Kansas Education Commissioner Diane DeBacker nominated BLHS for the honor in December 2011 after it finished among the top 15 percent of schools statewide on reading and math assessments in the 2010-11 school year. Officials also examined the school's scores in 2011-12, Howard said, to make sure that it maintained its performance.
A team of staff members at BLHS put together a required lengthy application for the Blue Ribbon award after the school was nominated last winter. The school received the award at a ceremony in Washington, D.C., in November, and students and staff celebrated with a pep rally and activities at the school.
Settlement with city administrator
In August, city council approved a $200,000 settlement payment to former city administrator Mark Loughry, who was fired 11 months prior.
In January, Loughry informed the city of his intent to sue for more than $500,000 in damages for actions surrounding his firing in September 2011.
In the lawsuit, Loughry's attorney accused the city of public defamation, breach of contract and due-process violations, alleging "egregious conduct" by city officials.
Loughry alleges his firing and accusations of improper conduct made by Basehor City Council members in its wake damaged his reputation and hurt his chances of finding another job.
The Council fired Loughry at its September 2011 meeting in a surprise 3-2 vote. After the firing, the Sentinel reported on a former city attorney's accusations that Loughry had revised his contract to add additional health benefits for his family and misreported the wages he'd received from his previous employer, the city of Hays.
Loughry denied any wrongdoing in both instances.
The lawsuit cited city council members' public comments surrounding those accusations, saying they were defamatory and false. It also said the council's firing violated Loughry's employment contract, which stated that he must be provided 10 days' notice of any termination and be allowed to defend himself in a hearing with the city council.
The settlement agreement, which was reached during mediation with Loughry, also included a public apology to Loughry from the city for his firing and the way it was handled.
iPad initiative
After years of discussion about embracing technology in the classroom, the Basehor-Linwood school board put its money where its mouth was in May.
The board approved, 6-0, a $126,000 new program to provide each incoming sixth-grader at Basehor-Linwood Middle School with an Apple iPad.
"We've been talking about 21st century skills in this district for almost the entire 21st century to date," district technology director Michael Kravets told board members at the meeting, "and we're finally taking a step toward that goal."
The program, which cost about $126,000 for the 2012-13 school year, included the purchase of the iPad tablets, software, servers and other necessary equipment as well as training for teachers to learn how to use the devices in the classroom.
The purchase is part of a plan to eventually provide each Basehor-Linwood student with a tablet or a laptop computer for use at school and at home, Superintendent David Howard said, with the laptops going to Basehor-Linwood High School students. But for next year, sixth-graders alone will use the iPads as part of a pilot program.
If the program is successful, Howard said, the sixth-graders will keep their iPads during their three years at the middle school, and each incoming crop of sixth-graders will receive a new set of tablets. Allowing the students to keep the devices throughout middle school should increase the chances that students will take care of them, he said.
To prepare for the initiative, teachers gathered during the summer to plan how to integrate the iPads into their lessons and attended conferences for ideas.
Of course, there have been some challenges, teacher Juli Brown said in August. One student in her class had to work standing behind a bookshelf so her iPad could charge in a wall outlet, after failing to charge it during the weekend. And some students have been a bit distracted by the device's possibilities.
Brown said tech-savvy students have delighted in teaching others — including the teachers — things they can do with the tablets. It's clear such technology fits perfectly into their lives, she said.
"It's just their world," Brown said. "That's the bottom line."
Stoplight installed
After multiple fatal collisions at 158th Street and U.S. Highway 24-40, a traffic light is in place and fully functional.
The Kansas Department of Transportation announced plans to install a stoplight at the intersection in 2010, with a goal of finishing the project in time for the 2012-13 school year. However, delays in obtaining rights of way, along with the relocation of utility lines, pushed the project back. Delays in manufacturing due to Hurricane Sandy threatened to push the next deadline of December back into January, but city officials were notified mid-December that the light was on its way. The light was installed and fully functional Dec. 19.
KDOT also made improvements to the intersection, including the addition and extension of left-turn lanes. Construction on the roughly $600,000 project began Aug. 27.
KDOT's plans for a stoplight came after years of effort by the city of Basehor and other groups to improve safety at the intersection.
A Tonganoxie teacher, Ronda Andrews, was killed in a collision at the intersection in August and a Tonganoxie teenager died in an accident there in 2007. After a series of accidents there in 2010, city, county and school officials asked KDOT to lower the 65 mph speed limit on the highway as it runs through Basehor. After a study — the third one investigating the intersection in a span of four years — KDOT instead announced plans for a stoplight.
"We're really hoping that's going to reduce an awful lot of problems with that intersection," said Basehor Police Chief Lloyd Martley.