BLHS

winter sports at the break: Boys await Johnson's January return, wrestling on upswing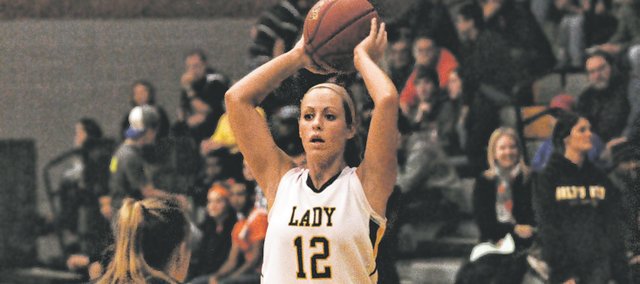 Last week's postponement of Basehor-Linwood's trip to Hayden High in Topeka for a boys-girls basketball doubleheader lent extra intrigue to their now-rescheduled Jan. 26 showdown.
What would have been a Dec. 20 rematch of March's sub-state title game before winter break will figure to now feature 6-foot-5, 235-pound senior Ben Johnson, who sat out the Bobcats' first five games to rest a sore knee. Johnson's return will add much-needed size to a team that has otherwise taken care of business on the court.
The Bobcats' lone blemish was in decisive fashion against a team in Shawnee Mission South regarded by many as a Class 5A state title favorite and has ripped through its schedule like a buzz saw. Since then, the Bobcats have been lights out.
Junior Chase Younger has a pair of 30-plus point games — 39 against Bonner Springs on Dec. 11 and 30 in a comeback victory against Turner on Dec. 18. Meanwhile, freshman Jahron McPherson finally put together the type of performance coach Mike McBride envisioned when he elevated him to the varsity level before the season. McPherson hit a pair of three-pointers to help the Bobcats (4-1, 4-0 KVL) rally from 12 down against the Golden Bears in what would be their final game before the break.
Younger isn't the only player to take over a game this season. On Dec. 14 at Tonganoxie, junior Tim Sanders went off for 27 points off 11 of 12 shooting. Earlier this season, McBride said he thought Sanders was capable of dominating should he play with enough speed and focus.
In this, as in other cases, McBride has proven prophetic this year. Tasked with replacing the Murphy twins, Brad Waterman and, for the season's first five games at least, Johnson, McBride has had to rely on a talented, but green, crop of players. In most assessments, he's used a variation of the phrase "If he can be as good as I know he is capable of…" and on multiple nights, that potential has been realized.
This is the same McBride that popped open the locker room door after a frustrating January loss to Lansing last season, visibly fired up yet insistent that on that night, his Bobcats illustrated that they were a state title team. This is also the same McBride who, though not ready to guarantee anything as for BLHS' postseason potential, has sported a wry smile a few times this season when considering the impact of Johnson's return to a team more than capable of lighting up the scoreboard.
Winter break's conclusion will find as intriguing a pair of Kaw Valley League showdowns as will be offered all season: On Jan. 8, the Bobcats play host to Mill Valley (3-2, 2-2) and travel to Lansing (7-0, 4-0) three days later on Jan. 11. Entering the season, the trio were considered the league's top contenders for the league title. With Piper also making a case for a darkhorse run, the first week back from winter break could be revealing.
Girls seek consistency
The BLHS girls basketball team, under first-year coach Jason Tatkenhorst, earned a therapeutic victory just before winter break. The Bobcats (3-3, 3-3) routed Turner, 54-29, on Dec. 18 after outscoring the Golden Bears, 23-4, in the fourth quarter.
Senior Jamie Johnson, the Bobcats' perennial leading scorer, had 17 points and has also scored 20 against Bonner Springs and 18 against Bishop Ward.
The Bobcats also saw Victoria Smith emerge as a force inside, scoring 19 points at Turner.
"It's good to have an inside-outside combination," Tatkenhorst told the Sentinel after the game.
Making Johnson's performance that much more impressive was that she did so having felt ill all day. As the Bobcats seek to put together more complete games this season — they relinquished momentum in a Dec. 11 loss to Bonner Springs and couldn't stifle a second-half rally in a Dec. 14 loss to Tonganoxie — Johnson being at full strength will be an imposing task for opposing defenses in league play. Junior Amber Garver has also proven capable of piling up points: she dropped 16 in a season-opening victory against Bishop Ward, scoring 14 of those points in the first quarter.
BLHS will face a stern task when it returns from break to host last year's KVL co-champion — and current co-leader — Mill Valley (5-1, 4-0) on Jan. 8.
Big wrestling tournaments await
After placing just one wrestler in tournament competition all last season, the BLHS wrestling team has already accomplished that feat five and six times, respectively, in consecutive weeks.
Although the Bobcats have yet to crack any individual Kansas Wrestling Coaches Association rankings, BLHS grapplers have shown a knack for hanging with whomever it is matched up against in their respective brackets.
Even without upperclassmen leaders Sammy Seaton and Cory McCleary at the Dec. 8 Cougar Invitational at Shawnee Mission Northwest, the Bobcats placed five wrestlers in the tournament, including junior Josh Summers, who won the tournament's 138-pound championship.
Sophomore Shayne Morris (106 pounds), junior John Hopper (152 pounds) and sophomore Zack Carter (195 pounds) each placed second in their respective weight classes. Meanwhile, junior Justin Summers (9-3) won his third-place match at 132 pounds that day. The following week, in Emporia, six Bobcats placed in what would be the team's final competition before the break.
"We were right there in the mix with some of the top names in state, team-wise," Cordts said afterward.
Hopper led the way in Emporia with a second-place finish, and junior Stephan Struzzo and Seaton placed third at 160 and 120, respectively. Morris placed fourth in Emporia, and McCleary and sophomore Zack Carter (195 pounds) rounded out the day with sixth-place finishes.
The Bobcats will return to competition in the Jan. 5 Dick Burns Classic at Bonner Springs, one week before playing host to the annual Bobcat Classic.
Lifters begin latest title defenses
The BLHS boys and girls powerlifting teams will open their season against McLouth on Jan. 12 as they begin their defense of their 2012 state championships.
Last season, the boys team won its third-straight state title and the girls won their fifth-straight championship. With a combined 118 points from both teams in the form of graduated athletes needing replaced, there will be plenty of opportunities for new contributors on this years' squads.
Read more about the Bobcats' annual lift-a-thon, which took place on Dec. 17.