BSHS

winter sports at the break: Deegan leads 5-1 girls, boys seeking end to slide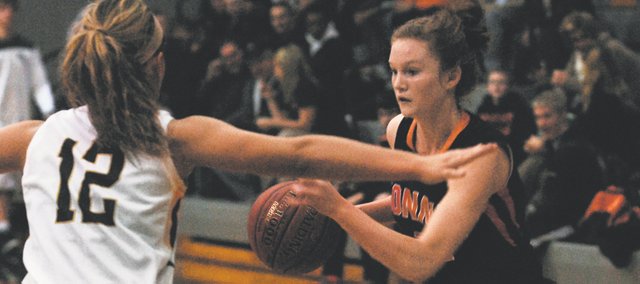 When the Bonner Springs girls basketball team lost four seniors from its 23-3 2011-12 team, one could be forgiven to expect some growing pains at the start of this season.
Certainly it would be a tall order to replicate what amounted to the program's best-ever season without the size inside of Erin Marx and twins Erica and Emily Wilson, or the clutch play of Yessenia Hernandez. And when now-senior Anna Deegan went down with an ACL tear while playing soccer in April, it was almost a given that the Braves would start slow.
Fast forward six games into their 2012-13 campaign, of which Deegan missed just one, and the new-look Braves sit at 5-1 and have already avenged the only blemish on their record.
This team, led by seniors Deegan and Haley Hoffine, has also arrived at this point behind the contributions of no less than four underclassmen. Most recently, it was freshman Julianne Jackson coming through with an 11-point second-half performance to down Piper, 46-39, on Dec. 18 to avenge an earlier loss in the finals of Eudora's Cardinal Invitational Tournament. If these Braves figure to make a run in further tournament play late this season, they'll do so in much different fashion than that of last year's fourth-place state tournament team. Speed has been the story of the Braves so far this year — something BSHS coach Clay Oakes said gave his team fits once it reached Salina back in March.
After working her way back from April's knee injury to return in the second game of the season, Deegan has reprised her role as the team's leading scorer, contributing 16.2 points per game — including a 30-point performance in a 63-32 rout of Lansing on Dec. 14. Hoffine and Jackson also contribute more than seven points per game each, and pick pockets on the defensive end: Hoffine leads the team with 26 steals, Jackson is next in line with 13. Jackson also leads the team with 5.8 rebounds per game. And who can forget Hoffine's buzzer-beating heave three-quarters of the way upcourt that was good for a three-pointer against Basehor-Linwood on Dec. 11?
BSHS' sophomore class proves that what's been built by Oakes is no temporary deal. Kaleigh Taylor (6.7 points per game, 5.2 rebounds per game), Abrise Sims (6.7 points per game, eight three-pointers) and Mikaela Bennett (6.3 points per game, 4.2 rebounds per game) have complemented junior Kennedy Bizzell (nine points against Piper on Dec. 18) in being as deep a supporting cast the Braves have had for some time.
Things figure to heat up once winter break ends: The Braves still have a pair of games left against the other two teams unbeaten in KVL play entering winter break. In fact, BSHS will travel to Tonganoxie (4-0, 4-0 KVL) in its first game back on Jan. 8 and play host to Mill Valley (5-1, 4-0 KVL) three days later.
Identity crisis
The season started promising enough for the boys basketball team under first-year coach Dan Streit. The Braves blazed through their first two Panther Invitational games in Paola to start the season and narrowly lost to Piper, 64-61, in the tournament's final. But the Braves (2-4, 0-3 KVL) haven't won since, losing their final three games of a four-game losing streak by an average of more than 25 points.
BSHS is on something of an odyssey at the break, still seeking a starting five with the right amount of chemistry to return to the level of play Streit knows the Braves are capable of competing at.
"We've had a system here not just the last two years with the previous coach (Andy Price) but between 2000 and 2005," Streit said after the Braves' 67-43 loss to Piper on Dec. 18. "It's a strong system that works. They either need to start buying into it or it's a lost season."
If one glimmer of hope could be gleaned from the Braves' second loss to Piper, in which the Braves trailed by as much as 30, it's the emergence of senior Tyler Howell as a player Streit can count on to be a force inside. Howell is leading the Braves with 7.5 rebounds per game and had 12 against Piper. The Pirates also sent Howell to the free-throw line for 15 shots during the game, though he only made five.
Now it's a matter of finding the right mix of players to surround Howell with, Streit said. Senior Austen Twombley, a Lawrence High transfer, leads the Braves with more than 11 points per game and 16 steals to go with junior Jordan Jackson's 17. Twombley and junior Zshavon Dotson lead the Braves with six and seven three-pointers thus far, respectively.
BSHS has also been hampered by injuries to seniors Logan Terrell and Travis Dooley — who received stitches after colliding during the Dec. 14 71-35 loss at Lansing — and sophomore Brenden Dotson, who came down hard on the court and hand to leave the Dec. 18 Piper game early.
The Braves will travel to Tonganoxie after winter break and will need to find some chemistry before their Jan. 11 game against Mill Valley, the only team so far to defeat Piper this season and one of the few to push Lansing to the brink.
'Fab Four' living up to billing
Expectations were high for the Bonner Springs wrestling team entering this season, what with its third-place finish at the 2012 state tournament and No. 2 preseason ranking at the Class 4A level by the Kansas Wrestling Coaches Association.
The Braves have that No. 2 locked down entering winter break, behind the one-two punch of seniors Jonathan Blackwell (No. 1 at 152 pounds) and Aaron Puckett (No. 1 at 160 pounds). Junior Josiah Seaton (No. 2 at 106 pounds) and senior Justus Seaton (No. 4 at 113 pounds) round out an upperclassmen quadrant dubbed the "Fab Four" by coach Brandon Jobe.
After commanding duals wins against Piper and Basehor-Linwood to kick off the season and a pair of tournament trips to Riley County and Lee's Summit, Mo., respectively, the Braves have reason to dream a little this break about the possibilities this season still has in store.
Out of the break will be the Jan. 5 Dick Burns Classic, Bonner Springs' annual tournament that will also feature Atchison, Baldwin, Basehor Linwood, Bishop Miege, Eudora, Fort Scott, Paola, Shawnee Mission Northwest and Highland Park.
Swimmers win before break
First-year BSHS swim coach Preston Williams was able to celebrate his team's first victory before winter break. The Braves traveled to Osawatomie for a triangular meet against Osawatomie and Parsons.
The victory continued a trend of steady improvement for a team led by Jacob Kraus, who won the 100-yard backstroke at Osawatomie, and one in which every relay teams have completed times good enough for state considerations.
The Braves return to action on Jan. 8 at Turner.