Basehor Snap Fitness gym expands after two years in business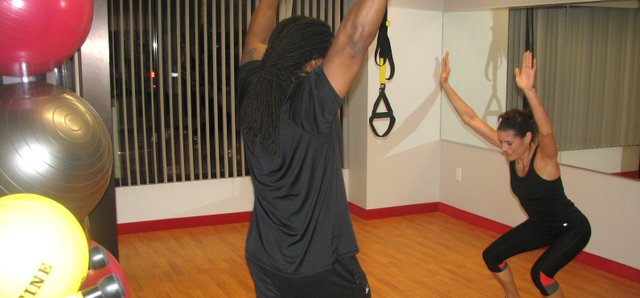 When Jen and Matt Rhodes opened their Snap Fitness branch in Basehor about two years ago, they may have underestimated the demand for a fitness club in the area, Jen says.
Business didn't take long to take off, she said, and the club's growth has allowed it to add a 1,000-square-foot expansion this year, bringing it to about 3,000 square feet total.
"Most clubs don't expand after their second year of business," said Jen Rhodes.
Taking over a space that was formerly occupied by an insurance office at 15604 Pinehurst Drive, the club has expanded its main gym space by about 600 square feet while adding a separate group workout room with hardwood floors.
Construction crews finished building the expansion at the end of December, just in time for January, which Rhodes said is "an insane month" for any fitness center as New Year's resolutions prompt more people to work out.
The club's owners, who also own a Snap Fitness branch in Shawnee, have used the extra gym space to spread out their exercise equipment a bit more, Rhodes said.
Basehor resident Chelsey Bauer, a member since the gym opened in December 2009, said the expansion allowed for a bit more personal space during workouts.
"You're not all on top of each other," Bauer said.
The main purpose of the new room, Rhodes said, was to allow space for group classes and boot camps led by the club's physical trainers.
The club is open 24 hours per day, and it is staffed during the day Monday through Saturday. Memberships start at about a dollar per day, Rhodes said, and do not involve contracts. More information is available at the club's website and its Facebook page.
Bauer said she'd been thankful to have a place to work out close to her home since the gym opened.
"It's been a great addition to the city," Bauer said.