Revved up crowd helps open Hollywood Casino at Kansas Speedway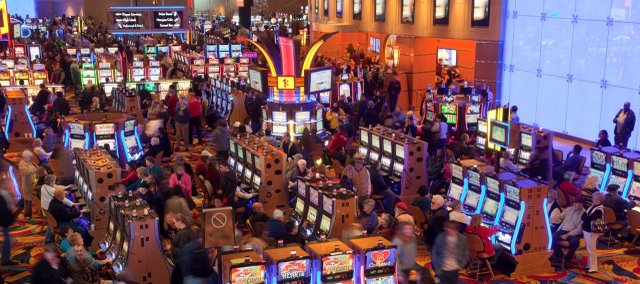 With the call of "Gentlemen, start your engines," the ceremonial first craps shoot was thrown Friday, and the doors of the Hollywood Casino at Kansas Speedway opened to the public.
Within 30 minutes, there were few empty seats at the 52 table games and 2,000 electronic machines. Julie Rich of Ottawa was among the first through the door, deciding to head to the bar for some video poker.
For Rich, her husband and two friends they brought along, checking out the casino on its opening day was worth taking the day off work. Rich and her husband worked in the gaming industry when they lived in Black Hawk, Colo., and she said they wanted to see what Hollywood Casino had to offer.
"We're mainly here to have fun," she said. "How exciting is this, to have something this close to home that looks like Vegas?"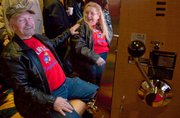 A ribbon-cutting ceremony preceded the opening of the doors. Amidst bright lights, showgirls and special guests — NASCAR drivers Clint Bowyer and Kasey Kahne — the ceremony included state and local dignitaries and officials from casino operators Penn National Gaming and the International Speedway Corp. (See video from the casino's opening day.)
Lesa France Kennedy, International Speedway Corporation CEO, spoke first, saying the combination of a sports facility and casino would make for a major tourist destination.
"I think it's one of a kind; I think it's going to be the envy of everyone in the business," she said.
Peter Carlino, Penn National Gaming chairman and CEO, said combined with the Kansas Speedway, The Legends, Nebraska Furniture Mart and Livestrong Stadium, the casino was set to outperform its competitors in Kansas City, Mo.
"You know that the Unified Government has realized a hugely bold vision in bringing this all together," Carlino said. "I believe this is the premiere gaming facility, not just in Kansas, but in this market — including across the river where those other guys are. This sets a new high bar."
Dennis Wilson, executive director of the Kansas Lottery, said the casino was the "crown jewel" of the western Wyandotte County entertainment district and would further boost tourism.
"It's not just a local destination, not just a regional destination, but a national destination," Wilson said. "There is no need to travel any farther west than this."
Bob Sheldon, general manager, announced a charity gambling event at the casino Monday had raised $25,000, and the casino was going to match that total to give that amount to both Sunflower House and the Kansas City, Kan., School Foundation of Excellence.
Bowyer and Kahne then threw the ceremonial first dice, and the doors opened to the public.
Janet Bimer took the opportunity to get a good look at the lights, games and layout.
"If you've ever been to Vegas, it looks like Vegas," she said, nodding her head in approval.
Mary Summers of Tonganoxie said she begged her daughter-in-law, Cecilia Summers of Basehor, to bring her to the casino's opening day.
"If we can win, it'll be really fun," Mary Summers said.
"We thought we might win," Cecilia Summers added. "We thought they'd have some loose slots."
Both agreed the casino was impressive and said it was worth it to brave the opening day crowds.
Alan Thompson, table games manager, stood back and took in the scene as he kept his eye on the games.
"I was here at 6 this morning and there was almost no one here," he said. "And I thought, 'This is the last time we'll ever see this place empty.'"
Thompson spent the last year going through almost 1,500 applications for dealer positions, conducting interviews and running a dealer school for more than 100 inexperienced dealers — 93 of whom were hired on at the casino. He said he was happy to get back to the business of running the games.
"All the build-up leading up to it is important, but this is what we're good at," he said, motioning to the craps, blackjack and roulette tables. "It was a good learning experience opening a new facility, but once the cards start throwing and the dice start rolling, that's when I'm at home."