BSHS

' Bush signs to play soccer at William Jewell College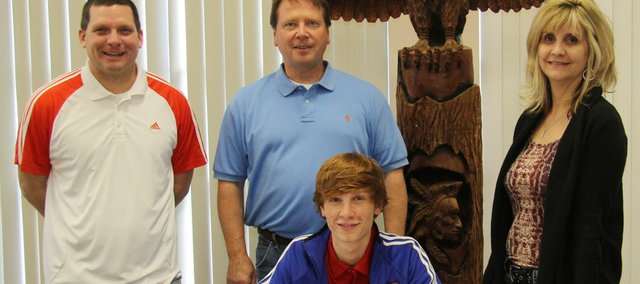 Photo Gallery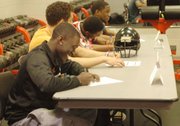 National Signing Day at Bonner Springs
Four Bonner Springs football players and one soccer player signed letters of intent to continue their athletic careers after graduation. Spencer Bush signed to play soccer at William Jewell College in Liberty, Mo. Stevie Williams (Butler Community College), JaVante Young (Fort Scott Community College), Daemon Franklin (Highland Community College) and J.J. Jackson (Coffeyville Community College) will be back in the weight room one last time this summer to prepare for the start of their collegiate careers.
It didn't yet hit Spencer Bush that it was official.
Not even after he decided to commit to play soccer at William Jewell College in Liberty, Mo. And not even when he signed and faxed the letter of intent on National Signing Day Wednesday, Feb. 1.
Instead, it happened during the most formal of formalities when Bush, a Bonner Springs senior, sat at a table as his parents and soccer coach stood behind him, smiling for a photograph.
"It was humbling," he would say. "This is going to be my next home."
Ultimately, it was William Jewell's coaching staff, campus layout and academics that made the difference for Bush, who will play tennis this spring and continue playing soccer for Wichita's Evolution Futbol Club until he leaves for Liberty. He also said he liked the team's style of play, similar to what he said he's played at Bonner Springs and club soccer throughout his high school career.
It was a career that saw Bush become a two-time first-team All-State selection, a two-time first-team All-Region selection and pick up first (2010) and second-team (2011) awards in the Kaw Valley League.
Bush has played the sport since he was 3 years old and joined his first club team at nine. His older brother, Ryan Bush, also played soccer at Bonner Springs before attending Kansas University.
Before he could sign his letter of intent for William Jewell — where he will take pre-law courses — Bush said he was busy filling out eligibility paperwork in the long days leading up to signing day.
Bush's senior season ended with a 1-0 loss to the eventual state champions, Kansas City Christian Academy.
"It was a hard season," he said. "Our last game, honestly, I thought we had it until the clock ran out."
Looking back, Bush points to the previous year's game against Kansas City Christian, then the state's No. 1-ranked team, as the highlight of his career.
In Oct. 2010, the Braves won the regional tournament with a 3-1 victory, coming back from being down 1-0.
On the verge of the school's first state title in 25 years, the Braves fell short and eventually lost 3-2 against St. James Academy in the tournament's third place game, a finish Bush has yet to put to rest.
"I wish I had that one back," he said.
Success on the pitch can still be had for Bush as his high school days wind down. He said the club tournament's quality of competition is comparable to that of the state tournament.
Should his team go deep, Bush may play well into June, a mere months until he reports to William Jewell to start a new chapter.
It's been a long journey so far, he said, looking forward to his new home.
"I'm becoming a Cardinal," Spencer said, "and that's cool."