Follow Live: Bonner Springs plays host to Lansing in rematch of double-overtime thriller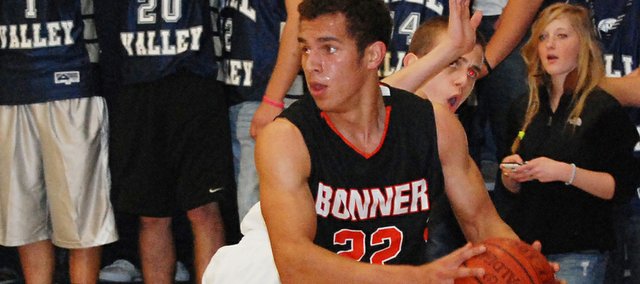 How can this sequel possibly live up to the original?
You had Bonner Springs, on the road in the fourth game of season at Lansing, a team expected to challenge for the 5A state title.
Thirty-two minutes and a pair of big runs by each team weren't enough to tell the story of these teams' December meeting. After two overtimes, Lansing finally emerged with a 62-60 victory — a lead that nearly tilted in the other direction as J.J. Jackson missed a three-point shot as time expired.
So, can it happen again? Is the back-and-forth, edge-of-your-seat chemistry still there seven weeks later?
Lansing sits atop the Kaw Valley League standings and is 13-1 overall. Bonner Springs has gone 9-1 since the loss at Lansing and is very much in the discussion for what the league's top team will be when the book is written on this season. Lansing already has a victory against Basehor-Linwood, who in turn narrowly defeated Bonner Springs in January. Rematches between Lansing and Basehor-Linwood and the Braves and Bobcats mean there is much to be decided in the weeks ahead.
The Braves enter the game scoring slightly more per game than the Lions (60.7-57.2) and the teams are even more evenly matched on defense — Bonner Springs has allowed 45 points per game while Lansing has given up just 42 points per game.
Watch a live video of the game in the feed above, courtesy of the Bonner Springs school district. Also, follow @bonnersprings and search #BonnerSports on Twitter for updates from the game.
Read more about the teams' first game this season.
Girls tip at 6 p.m.
It's been awhile since the Braves could rest easily, and despite carrying a 14-0 record and just about every statistical advantage into Tuesday's game, Bonner Springs isn't likely to take Lansing likely.
Since defeating Baldwin 51-25 on Jan. 26, the Bonner Springs girls's last three victories have been anything but easy.
They had to overcome halftime deficits against Spring Hill and Piper and escaped Bishop Ward with a four-point victory on Friday.
Lansing (2-12) is coming off a 37-26 loss against Mill Valley Friday.
The last time Bonner Springs met Lansing, Anna Deegan went off for 28 points, nearly matching Lansing's total score of 32.