Basehor-Linwood spellers place high in area bees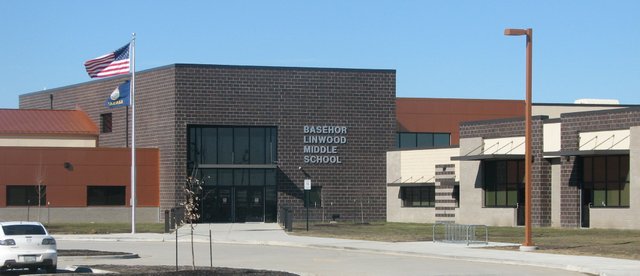 Three Basehor-Linwood Middle School students placed in the Kaw Valley League and Leavenworth County spelling bees during the past week.
Alex Teeple won first place in the seventh-grade competition at the Kaw Valley bee Monday, spelling the word "akimbo" for the victory. Lauren Cline finished second in the eighth-grade competition.
BLMS sixth-grader Ryan Stalcup took third place Friday in the Leavenworth County Spelling Bee, which is a single competition among fifth- through eighth-graders. Ryan will now compete in March at the Sunflower Spelling Bee in Great Bend, the winner of which will compete in the Scripps National Spelling Bee in June.
BLMS seventh-grader Shelby Billiquist also competed in the county bee, after winning a school-level competition. Alternates for the county bee were Mauryn Brownback, eighth grade; Olivia Sibert, seventh grade; and Samantha Dial, sixth grade.
Those students all competed in the Kaw Valley event as well, along with Lauren Lawson, Abby Lee and Lauren Smith, eighth grade; Gizzelle Diaz, seventh grade; and Zach Howard and Jacob Swabb, sixth grade.
Fifth-graders competing in the Leavenworth County event were Sterling Hollond, Linwood Elementary School; Hunter Bahr, Basehor Intermediate School; and Sarah Stalcup, Glenwood Ridge Elementary School. Alternates were Levi Cook, LES; Jordyn Mussett, BIS; and Alyssa Richardson, GRES.