Follow Live: Girls-boys doubleheader between Mill Valley and Bonner Springs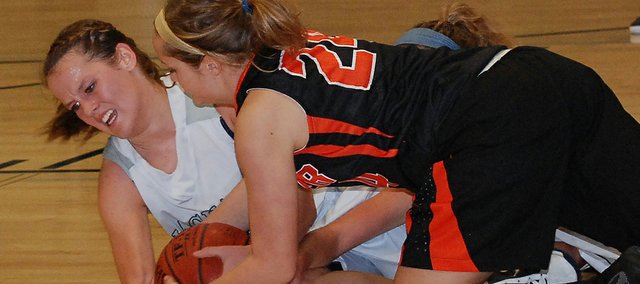 Two big Kaw Valley League matchups on both the girls and boys sides will take place at Bonner Springs High School Friday, starting with the 15-0 Braves hosting the 12-3 Mill Valley girls at 6 p.m.
The Jaguars will have redemption on their minds as they haven't lost a game since a one-point defeat to Bonner Springs on their home court on Dec. 13. Return the favor, and Mill Valley might give pause to those ready to crown the Braves KVL champions.
Bonner Springs is coming off of coach Clay Oakes' 200th career victory, a dominant 51-28 performance against Lansing on Tuesday.
Mill Valley junior Tanner Tripp scored 25 points — including five three-pointers — and lead her team to a 51-28 road victory against Tonganoxie (10-5).
On Tuesday, Bonner Springs ended a stretch in which the team had to battle back from halftime deficits and, on one occasion, seal a victory in the closing seconds. Meanwhile, the Jaguars have had little trouble dispatching their opponents, scoring an average of 52.5 points per game while giving up just 25 during their winning streak.
Catch up on the teams' last matchup.
The Mill Valley boys basketball team (9-6) is also coming off a win on the road against Tonganoxie — the Braves topped the 7-8 Chieftains, 71-51 — while Bonner Springs (11-4) is reeling from a 44-34 loss to league-leading Lansing.
Against Tonganoxie, junior Nathan Stacy scored a team-high 22 points.
A win for Bonner Springs will improve its substate stock, something coach Andy Price said has been the focus of his team all season.
In knocking off the Braves, Mill Valley can make a case for inclusion among the KVL's top tier teams.
The last time these league foes met, the margin of victory was little different than that of the girls. On Mill Valley's home court, the Braves overcame a 13-point halftime deficit to claim a 55-52 victory. After a first quarter in which Mill Valley shot 7-of-8, including three 3-pointers from Nick Friesner, Bonner Springs outscored Mill Valley 29-13 in the second half.
For more, including a photo gallery from the game, check out our Dec. 13 recap.
The boys game will tip at 7:30 p.m.
Watch a live stream of the doubleheader above, follow us on Twitter and share your thoughts via Twitter and the comments below. A recap will follow the games.