Mill Valley girls end Bonner Springs' perfect season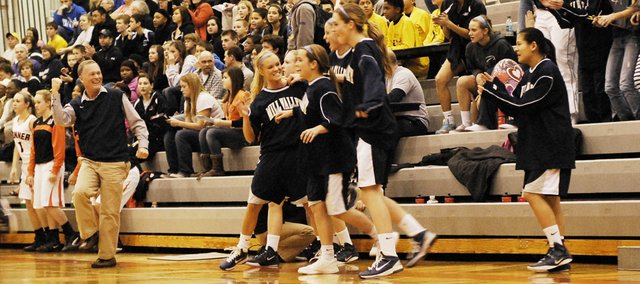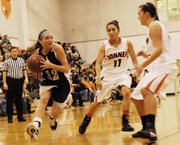 Notebook
• During a tie-up between Wilson and Mill Valley sophomore forward Carly Eaton, Eaton went down, writhing on the court with a knee injury. She had to be helped off the court and McFall later said he expected her to miss time.
• The Jaguars completed the comeback despite its leading scorer, junior forward Stephanie Lichtenaur, being held largely in check by Bonner Springs. Lichtenaur fouled out with just two points at 3:09 in the fourth quarter.
How else do you explain it?
Moments after the Mill Valley girls basketball team ended rival Bonner Springs' perfect season — after the Jaguars overcame a 10-0 start by the Braves and conquered the Oh No, Not Agains to win 34-33 Friday — coach John McFall smiled, his voice cracking as he tried to find the words.
"We just set 'em up," he said. "We had them where we wanted them."
Tongue in cheek, of course. In truth, the Jaguars (13-3) would have preferred to be in nearly any situation other than that which they found themselves at the game's onset. Bonner Springs senior center Erica Wilson couldn't miss, and the Jaguars couldn't prevent senior point guard Yessenia Hernandez or junior guard Anna Deegan from feeding her the ball in the paint. After the first eight minutes, Bonner Springs (15-1) owned a 13-4 advantage. Wilson already had six early and easy points, and Hernandez drilled a three at the buzzer that at the time appeared to signal death to any hopes of upending the Kaw Valley League's top team on their home court.
"Don't give in!" McFall shouted from the sideline. "Don't give in for one minute!"
Facing an early deficit, the Jaguars attempted a slew of shots from beyond the arc, none successful until junior guard MacKenzie Conklin floated one in and was fouled to boot. The four-point play brought the Jaguars within six points with halftime approaching, the game suddenly within reach again.
McFall credited the Braves' early attack, but couldn't help noticing his team was in the midst of an uncharacteristic performance.
"That's not us," he said. "We guard."
McFall watched tape of the Jaguars' one-point loss to Bonner Springs in Shawnee on Dec. 13. It was the last time Mill Valley lost and yet the first time McFall found his team's identity: Its guarding.
Bonner Springs held on to a 20-12 halftime lead, and Mill Valley junior guard Tanner Tripp cut the lead to five off a 3-pointer within 90 seconds of the second half. But Bonner Springs stayed out front, extending its lead to as much as 10 again before closing the third quarter up 29-22.
If Mill Valley found themselves, so to speak, against Bonner Springs at the beginning of the season, it must have experienced a reaffirmation in the second half.
"They rattled our guards a little bit," Bonner Springs coach Clay Oakes said.
Sophomore guard Mary Altman scored twice early in the fourth — she'd finish with six — and Tripp drove to the basket to bring the Braves' lead to its narrowest point with less than six minutes to play.
After a missed 3-point attempt by Deegan and a Braves pass out of bounds, Tripp made it a one-point game after being fouled on a successful layup attempt. Down one, Altman tied and, subsequently, put the Jaguars up one at 32-31 with 2:48 to play. And in what would be the deciding score, Tripp stole the ball and put the Jaguars up three. The steal was one of two in the second half in which Tripp converted into points in transition. Tripp, the game's leading scorer with 18 points, would score 12 in the final two quarters.
"We've been working so hard for it since the beginning of the year," Tripp said. "We just wanted to come out and beat them at their place since they beat us at ours."
Wilson answered with a basket of her own, and followed by twice stripping Mill Valley of the ball, but couldn't come up with points in the paint.
"They're almost identical," Oakes said of the teams' two meetings this year. "Over there, the shot went in, here it didn't."
Now at 15-1, Bonner Springs will have to bank on Mill Valley faltering in either of its next four games to ensure an outright league championship. If each team runs the table, they'll share the title.
"It's not ideally what we wanted going into tonight," Oakes said. "But if that's what we've got to settle for going out, we want to make sure we do everything we can to get a piece of the title."
Mill Valley plays at Basehor-Linwood at 6 p.m. on Tuesday.