Stevie does it: Braves boys rally to defeat Mill Valley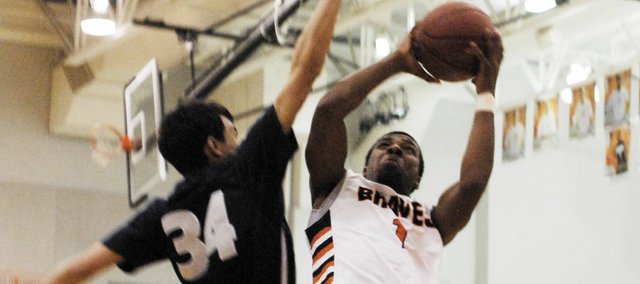 We can't hear you, the visiting crowd chanted. We can't hear you.
After roughly 10 minutes of play on Friday, the visiting Mill Valley boys basketball team — and a contingent of supporters more than enthused to have made the trip — had rival Bonner Springs up against the ropes. A pair of 3-pointers by Brett Hamilton and Nathan Stacy gave the Jaguars an early but slim lead, one they'd grow to 10 by halftime.
Sectioned in opposite corners, the Bonner Springs and Mill Valley student sections weren't so far away from each other as to not recognize a rival presence. Rather, the two clusters chanted and jeered and scowled and taunted, one determined to maintain control of home court, the other determined to wrest it away.
Before the Braves overcame 30-20 halftime deficit, they had to rewrite the narrative that featured a week that included a 10-point home loss to Lansing that coach Andy Price said left his team lacking fire. But before all that, before Bonner Springs could reverse fortune and defeat Mill Valley, 54-45, a crucial battle needed contesting off the court.
The Braves fans sounded muffled at first, their voices not carrying far on the court. It was the Bonner Springs' Courtwarming night and Mill Valley traveled well, looking primed to spoil the occasion. The Jaguars' full student section had on Dec. 13 watched their team carry a 13-point lead into halftime against Bonner Springs, only to watch it slip away in the second half. For the first 16 minutes of play, it looked like the Jaguars would have another crack at closing
Price said that he held several players out of the starting lineup who traditionally have logged substantial minutes because he was dissatisfied with the lack of cohesion he saw in practice that week.
"Mill Valley is one of our biggest rivalries and the hardest to coach against," he said. "So I felt uneasy about sitting those guys the first quarter."
Seniors B.J. Watson and Stevie Williams were among those with empty scoresheets after the first quarter. Watson was scoreless in the first half, while Williams had just two points before intermission. Meanwhile, it appeared the Jaguars couldn't miss. Six players scored in the second quarter as part of a 17-8 run.
But just like last time — just like nearly any time these two teams play — it became a game again. Bonner Springs outpaced Mill Valley in the third quarter, cutting the Jaguars' lead to 39-33 heading into the fourth. Mill Valley's offense would be stifled by a suddenly resurgent home squad.
"We couldn't get an easy look in the second half," Mill Valley coach Justin Bogart said.
The Braves held Mill Valley to nine points in the third quarter and just six in the fourth. Once raucous, the visitors' section took on the look and feel of a group of people waiting in line at airport security. Meanwhile, across the court, a familiar refrain.
We can't hear you. We can't hear you.
Bogart didn't doubt that his players began to think back to the last time these teams met. Seeing Williams limp off the court with a sprained ankle, only to return to finish with 9 fourth-quarter points, had to have felt like a dagger.
"I can't sit here and say it didn't bother us," Bogart said after the game. "We weren't ourselves out there in the fourth quarter."
Stacy and Hamilton finished with 11 and 10 points, respectively. Despite combining for 11 first-quarter points, the two were held to just one 2-point basket in the second half.
Four Braves finished in double figures: Williams' big fourth-quarter, which included hitting 7-of-8 free throws, allowed him to finish with 13 points. Jordan Jackson also finished with 13, including three 3-pointers, the last of which pulled the Braves within one late in the fourth.
When Watson, who finished with 10 points, sank both his free throw shots soon after to put the Braves up for the first time (and for good), the student section belted out another one: I believe that we will win, I believe that we will win.
"We might not win that game without the crowd in the second half," Price said.
As the final buzzer neared, the visiting section, perhaps in a spirited act of concession relinquished control in its own way.
Let's play football. Let's play football.
The Jaguars ran into a surging Basehor-Linwood (14-3, 10-1) on Tuesday, falling 87-54 on the road (see page 14).
For Bonner Springs, who defeated Turner Tuesday — see story on page 16 — its coach sees a team that can't lose when it plays together.
"I couldn't be more proud with how we finished the game in the fourth quarter," Price said.