Basehor-Linwood's Jesse Hiss is Boulder bound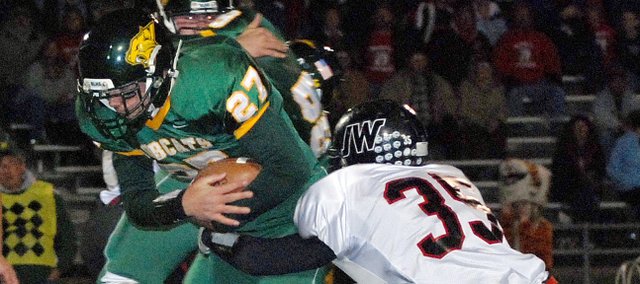 Have a signing to submit?
Email sports editor Stephen Montemayor at smontemayor@theworldco.info if you have a college signing to share. Feel free to attach any photos or video from the event as well.
Instead of attending Courtwarming festivities last week, Basehor-Linwood senior Jesse Hiss hit the slopes in Boulder, Colo., with a few friends.
"Snowboarding > courtwarming," tweeted Hiss as afternoon gave way to early evening on Saturday. About an hour later, Hiss tweeted a photo of a mountain range, sunlight beaming just beyond its peaks.
Hiss had to put board to powder because pretty soon Boulder would be his new home. Last week, Hiss, a fullback and linebacker for the Bobcats, accepted an invitation to join the University of Colorado football team as a preferred walk on, meaning he'd have a spot on the Division I Buffaloes' 105-man roster.
"If I wanted to play football," Hiss said, "CU would have been where I'd be going. I love it out there."
Last year, Hiss concluded a career alongside his school's most decorated senior class. The Bobcats won their third consecutive Kaw Valley League championship, the first of which ended a seven-season drought.
Each of the last three years saw Hiss play a pronounced role in Basehor-Linwood's rushing attack and hover around the top of the team's leading tackler list come November.
During that same span, the Bobcats compiled a 27-4 overall record and won 21 of its 22 league games.
Last year, the team won its most games in school history, advancing to the second round of the Class 4A state tournament and finishing with 10 victories. During that season, Hiss led the team with an average north of 6 yards-per-attempt. He scored 10 total touchdowns and finished second in rushing yards on a balanced rushing attack. On defense, Hiss recorded 80 tackles at linebacker, good for second on the team.
In 2010, Hiss was one of two lead rushers for the Bobcats, finishing with 725 yards and 12 touchdowns. That year he also recorded 99 tackles and five sacks on the other side of the ball. As a sophomore in 2009, Hiss had 101 tackles, second-most on the team.
Hiss' production over the years gained the attention of smaller programs in the area and he said he also entertained walking on to programs at Tulsa, Colorado State and Iowa State.
When he reports to summer camp in June as a walk on, he'll do so with a chip on his shoulder.
"That's actually one of the big reasons I chose to go D-I," Hiss said. "I wanted to prove to myself and to others that I could play at that level."
Hiss is putting the wraps on his final year powerlifting with the school, after which he'll decide between one more baseball season and focusing more on conditioning before departing for Boulder.