Bobcats get revenge against Lansing, earn first-place tie in
KVL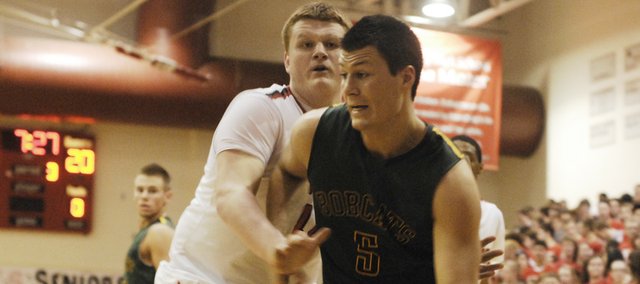 Girls: Lansing 44, Basehor-Linwood 40
The Basehor-Linwood girls basketball team and Lansing were dead even in the second half, but Lansing's four-point halftime lead proved to be the difference on Friday.
Senior Maggie Hattock scored nine, senior Bailey Hooker added eight and sophomore Amber Garver scored seven.
The loss dropped Basehor-Linwood to 7-10 overall and 5-7 in the Kaw Valley League.
Stay tuned to this site for more from the game, including a photo gallery.
Lansing — Never mind that Basehor-Linwood coach Mike McBride wore various shades of disbelief during some of the 19 fouls his team would be whistled for on Friday.
And ignore that the Bobcats could clinch a share of first place in the Kaw Valley League with a win at Lansing, the same team that bested them at home in a one-point slugfest three weeks prior.
Because if you believe McBride, the Bobcats had nothing to lose Friday, and lose they wouldn't. McBride was referring to his team's sub-state seeding prospects. And after leaving Lansing with a 52-44 victory, the Bobcats (15-2, 11-1) may clinch a No. 1 seed with a win on Tuesday at Turner.
But McBride said Basehor-Linwood came out early on playing timid, reserved — as if it did have something to lose. And maybe it did. In some ways, how could it not after the way these teams' previous encounter went?
"It feels like we got revenge," junior Ben Johnson said.
Johnson anchored a defense that owned the game on the boards while also forcing key stops and keeping Lansing's shooters from finding their touch.
For the first few moments, however, Lansing (16-2, 11-1) looked primed to give the packed partisan house something to scream about. After a three-minute scoreless stretch to open the game, Lansing jumped out to a 10-4 lead. But Colin Murphy scored six straight — he and sophomore Chase Younger scored all of Basehor-Linwood's 10 first-quarter points — and helped end the opening frame tied. Younger finished with eight points, including 2-of-3 free throws in the fourth quarter.
And for the second straight game, seniors Colin and Ryan Murphy were a few shots away from outscoring the entire opposing team on Friday, combining for 37 points. If Colin got things started early, Ryan joined in dominating the second half. Despite a slow start in which he couldn't get an outside shot to drop, Ryan finally sank one just inside the 3-point line as time expired in the first half, giving the Bobcats a one-point lead.
"He's got the green light to shoot from wherever the heck he wants to," McBride said.
At no point did Lansing throw in the towel. Coming out of halftime, senior Chris Jones threw down a dunk that sparked the student section. Jones subsequently blocked a shot by Johnson, but picked up his third foul soon after and was pulled from the game momentarily.
By the final moments of the third, Basehor-Linwood grew a lead of nine.
In the fourth quarter, the tension seemed to peak when Younger drew a blocking foul on Hunt, who added a technical foul for his reaction to the call, and had to be restrained by teammates. During the dustup, Tanner Garver was also called for a technical.
But Basehor-Linwood again wrested momentum back in its favor when Johnson forced back-to-back turnovers — an intercepted pass and a block to force a Lansing timeout at 5:40. Out of the break, senior Izaiah Grice — who led Lansing with 15 points — stole the ball from Ryan Murphy and pulled within four with a layup, but the Bobcats convert all of their free throws late, sealing the rematch in their favor.
After the Bobcats lost its last game, against Lansing at home on Jan. 27, McBride said Basehor-Linwood showed him that it was a championship-caliber team that night.
On Friday, his players shared that confidence.
"We're right there," Johnson said. "We've got some work to do but we're close."
Basehor-Linwood's game at Turner tips off at 7:30 p.m. Tuesday.