Free dental clinic in
KCK

serves 2,400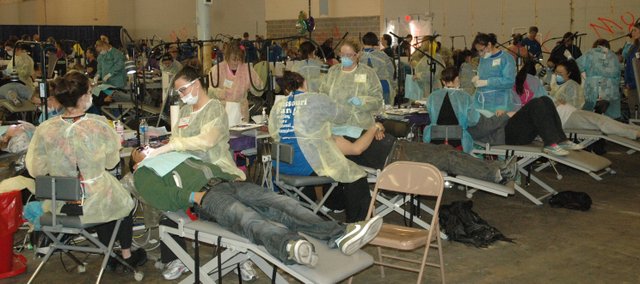 Dave Whitt was waiting Saturday to lose the last of his teeth.
Having been laid off recently, the Edwardsville resident jumped at the chance to receive free dental help over the weekend at the Kansas Mission of Mercy clinic in Kansas City, Kan. It had been about two years since he'd last seen a dentist, and Whitt said he knew he hadn't taken good enough care of his teeth, so he felt it would be better to get a full extraction and move on to false teeth.
"This was actually a blessing in disguise because I had a tooth break off a couple of weeks ago," he said. "… I'm really appreciative of something like this; it helps a lot of people."
Whitt got to the former WalMart at State Avenue and 65th Street where the clinic was held at 4 a.m. Friday and was given number 700. But a family emergency called him away before his number was called, so he was back early Saturday morning, this time number 952.
"It's worth it to me, anyway, because my teeth right now are at the point where they're causing me pain," he said. "And I don't have any dental insurance or anything like that, so it came along at the right time."
About 2,400 people like Whitt came to the clinic Friday and Saturday, which was sponsored by the Kansas Dental Charitable Foundation. People began lining up at 8 p.m. the night prior to each day of the clinic, staying overnight to receive cleanings, fillings and extractions.
After their number is called, patients were put through triage to ensure they had no major medical issues and to check their general dental health. They were then separated into groups according to their needs: cleanings, extractions, fillings and even some oral surgery.
"We have to decide what is the most urgent treatment they need," Heather Yows, spokesperson for the event, said. "So many need lots of treatment that we have to limit it in order to treat as many people as possible."
There were many stories like Whitt's of those who had not taken care of their teeth and were in desperate need of treatment. Yows said one hygienist told her on Saturday morning, in the pediatric area of the clinic, that a 2 year old had needed six fillings and two crowns, while two other children had problems so bad that they were sent to the hospital.
It was the 11th Mission of Mercy Clinic and the first in the Kansas City area since 2003, when a clinic took place at the Kansas Speedway. Over the course of four days — including set-up on Thursday and take-down on Sunday — 1,590 volunteers lended a hand, with 173 dentists and 152 hygienists donating their time.
The clinic was open to anyone, no questions asked. Most who attended the clinic were from the Kansas City area, but Yows said she had met some from much further away — one woman came from Emporia with her daughters and three grandchildren. Another family came from the Kansas and Colorado border.
"Some people make this their dental care; they go from clinic to clinic," Yows said.
Dede Behrens, a dentist in Kansas City, Kan., has participated in three previous clinics outside of Kansas City, so she said taking part in a clinic where she lives was especially important to her. She brought along her staff and got her mother, husband and son to work as volunteers.
"This is where I live, and these are my people," she said. "And if we're going to take care of their problems, I'm going to be taking care of them, too."
Behrens went to area preschools to prescreen 250 children for the clinic. Of those, she set up clinic appointments for 64 children; about half of those showed up. She said she hoped the clinic helped many see how important dental care is.
"I think sometimes their problems are so overwhelming that they're afraid to start," she said. "And so hopefully this, because they do education first, hopefully with this, if they're afraid, it lets them (get over that). I had two people today that it was their first fillings ever, and they were afraid. But by the time we were done, they were like, 'OK, so that wasn't so bad.' We talked about following through and taking care of things. Maybe that does give them an introduction that they haven't had before."
She said hoped the clinic taught the families who attended that dental health was important and easily maintained through daily brushing.
"We just have to teach people that teeth are part of your overall health," Behrens said. "You have to value those and take care of them, and put them as part of your priority system."