Bonner Springs, Basehor-Linwood wrestlers prepare for state tournament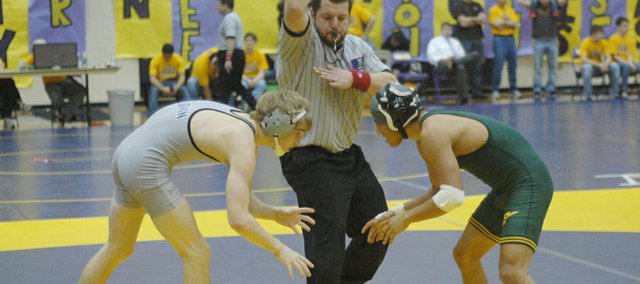 Maybe a few breaks go Bonner Springs' way, and the wrestling team wins the 4A regional tournament in Spring Hill Saturday.
But with a second-place finish and seven Braves bound for Salina this week, coach Brandon Jobe is confident his team has the tools to make a deep run.
"The tougher the tournaments, the better we do," he said. "If we put it together next week, we'll make a run toward the top."
Three Braves won their brackets on Saturday: Junior Jonathan Blackwell (145), senior Mark Hobson (152) and junior Aaron Puckett (160) gave Bonner Springs three straight championship wins.
Entering the regional tournament, the Braves were ranked fifth in 4A, with five wrestlers ranked in the top six of their respective classes.
Junior Jared Clements (170) and junior Justus Seaton (113) advanced to state with runners-up finishes in their brackets. Also advancing will be sophomore Josiah Seaton (106) and senior Austin Cobb (126), who each won their consolation final to place third.
Despite finishing second to St. James Academy, Jobe said he thinks the Braves are positioned to go deeper in the tournament, which begins Friday in Salina. Leading the pack is Blackwell, the defending state champion who left Spring Hill with a 41-2 record.
"He's been the standout wrestler all year," Jobe said.
Jobe was also pleased with Bonner Springs' overall performance, looking forward to returning the bulk of his squad.
"I'm proud of the way they competed," he said. "Every single guy battled."
Two Bobcats make state
It's been a rough ride for the Basehor-Linwood wrestling team this year, the young squad has battled injuries and struggled just to finish .500 at its meets.
Still, coach Ed Seaton will take senior Antonio Ferro (120) and sophomore Cory McCleary (145) to state this week with a chance to end the year on a high note.
McCleary earned his first trip to state in exciting fashion, rallying from a 2-0 deficit with 14 seconds remaining in the third period.
"It wasn't looking good," Seaton said of McCleary's consolation final against Hiawatha senior Nate Boyer.
After the two restarted after going out of bounds, Boyer had McCleary mounted and controlled his left side. But upon moving to the right, McCleary locked hands and nailed a reversal. As time expired, the three-point maneuver clinched third place for McCleary.
"The kid rode him steadily for two periods and it didn't look like he would get away," Seaton said. "But then he switched his strategy, and did so in our favor."
Ferro has been a mainstay deep in many tournaments in which the Bobcats have competed. On Saturday, Ferro dominated the early rounds, pinning his first opponent and out-pointing his next 7-2. But against Tonganoxie's Clayton Himpel, Ferro fell 8-0. Ferro recovered in the consolation bracket, pinning Bonner Springs' D.J. Ballard to guarantee at least a fourth-place finish.
In the consolation final, Ferro dropped a 3-0 decision to Baldwin's Tucker Clark.
State tournament schedule
The 4A state championship will be held on Friday and Saturday at the Salina Bicentennial Center, 800 The Midway. The first round begins at 10 a.m. Friday, followed by the championship quarterfinals at 2 p.m. At 4 p.m., the first round of consolation matches begin, as will the championship semifinals.
On Saturday, the consolation quarterfinals begin at 10:45 a.m., followed by the consolation semifinals at 12:15 p.m. and the consolation finals at 3 p.m. The championship finals begin 45 minutes after the conclusion of the consolation finals.