Questions and answers on Feb. 28 Basehor recall election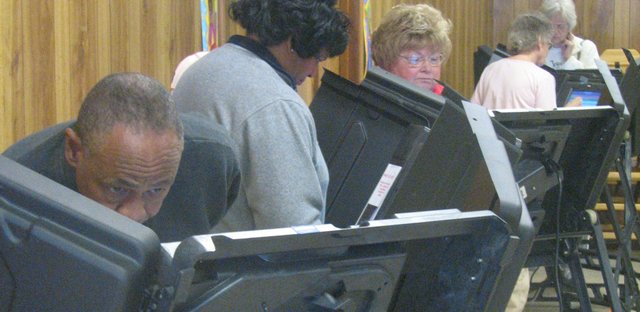 Editor's note: Basehor residents will vote Tuesday, Feb. 28, on whether to recall Basehor Mayor Terry Hill and Basehor City Council members Dennis Mertz and Iris Dysart. In this feature, the Sentinel answers questions voters may have about the recall vote.
Q: What are the new voting rules regarding IDs?
A: The new rules, approved by the Kansas Legislature last year, require every voter to present a photo ID at the polling place. Eligible IDs include driver's license, U.S. passport, military ID or student ID cards from colleges or universities in Kansas.
The Basehor recall vote will be the first in Leavenworth County to be affected by the voter ID law. For more information about the requirements, visit the Kansas Secretary of State's website at sos.ks.gov, or call (800)262-VOTE.
Q: Where and when can I vote?
A: There will be only one polling place: Father Quinlan Hall at Holy Angels Catholic Church, near 154th Street and Leavenworth Road. Polls will be open from 7 a.m. to 7 p.m.
Q: What will the ballot look like?
A: The ballot will contain three yes-or-no questions, one each for the mayor and the two council members. If you want to remove an official from office, vote YES under his or her name. If you want the official to stay in office, vote NO.
For example, the ballot question about Hill will read: "Shall Terry Hill be recalled from the office of Basehor City Mayor?" If more people vote "yes," then Hill will be removed from office; if more vote "no," he will remain as mayor.
Q:Why are we having a recall vote?
A: State law allows for residents to petition for a vote to remove elected officials from office on the grounds of a felony conviction, other misconduct or failure to perform their duties. To start the process of recalling a local elected official, a committee of three registered voters must submit to the county a petition that includes grounds for the officer's recall, and the county attorney must determine that those grounds are sufficient.
In Basehor, one committee of three voters got approval for petitions to recall Mertz and Dysart, and another group gained approval for a petition to recall Hill. Each of those petitions attracted enough signatures (according to a formula based on past voter turnout in city council elections), so Leavenworth County scheduled a recall vote.
Leavenworth County Clerk Janet Klasinski placed all three recall questions on one ballot in order to save money, rather than having separate votes for each officer.
Q: What are the "grounds" for the recall of the Basehor mayor and council members?
A: The committee seeking to recall Mertz and Dysart claims the council members had discussions outside of public city council meetings regarding their vote to fire former city administrator Mark Loughry last September. Such discussions would violate the Kansas Open Meetings Act. Mertz and Dysart say they did not break any laws, and Mertz has said the city council discussed matters related to Loughry's eventual firing during a lawful executive session earlier that month.
The grounds for Hill's recall are also connected to Loughry. The committee seeking the mayor's recall has accused him of improperly revising Loughry's contract to give him additional health benefits and authorizing a $50,000 severance check to Loughry without approval from the city council. The group alleges that those actions amount to misuse of public funds.
Hill, though, has said the change to Loughry's contract was authorized by the city council, and the severance payment was required by Loughry's contract.
Q: If the county attorney approved those grounds as sufficient, does that mean he ruled that Hill, Mertz and Dysart committed crimes?
A: No. Leavenworth County Attorney Todd Thompson has said his approval had nothing to do with whether the petitions' allegations were true. His approval indicated only that, if true, the accusations qualified as grounds for a recall vote under state law.
Q: A judge threw out part of the grounds for Hill's recall. What was that about?
A: In January a Leavenworth County District Court judge ruled that two grounds for Hill's recall, approved earlier by Thompson, were not sufficient. Those two grounds accused Hill of failing to preside at all council meetings and of misusing public funds in connection with purchases he made with a city purchasing card. The judge said the petitioners did not present enough evidence of a violation in either of those areas.
Q: What happens if these officials are recalled? Who would take over for them?
A: According to state law, any official whom Basehor residents vote to recall will be removed from office the day after the election results are certified by the county. Leavenworth County Commissioners are scheduled to canvass the votes on March 5.
If Mertz, Dysart or both are recalled but Hill remains in office, then Hill will appoint new members to replace them, with approval from the remaining city council members. If Hill is recalled and Mertz is not, then Mertz will become mayor because he is the current city council president. He would then have the authority to appoint a replacement council member for himself and for Dysart if she is recalled, with approval from the remaining council members.
If both Hill and Mertz are recalled, then things will get a bit complicated: First, the remaining members of the city council must appoint one of themselves as city council president. That person would immediately become mayor. The new mayor would appoint any replacement city council members needed, with approval from the existing council members. And finally, the council members could again appoint one of themselves as the new council president.
Q: I'm still not sure how to vote. Where can I find more information about the issues?
A: We've got you covered. Check out the Basehor Recall Election Central page on basehorinfo.com, where we've rounded up links to our coverage of the recall petitions, Loughry's firing, Hill's court challenge and just about anything else that might inform your vote.
And if you still have any questions, ask the Sentinel about it on Facebook (facebook.com/thebasehorsentinel) or Twitter (@BasehorSentinel), and we'll do our best to get you an answer. And be sure to follow our coverage of the recall election throughout the day and night Tuesday, at basehorinfo.com and on Facebook and Twitter.