Basehor-Linwood tight end Ben Johnson commits to
KU

football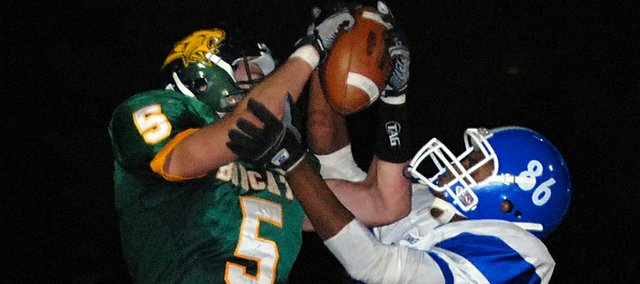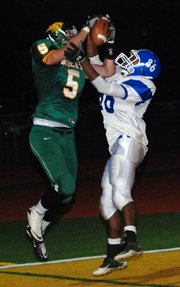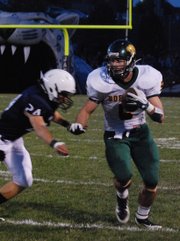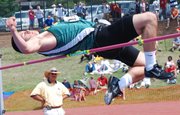 Ben Johnson, a 6-foot-6, 225-pound junior tight end for Basehor-Linwood High School, became the first Kansas University football commit of the class of 2013 this week.
With 56 receptions for 956 yards and 12 touchdowns, Johnson was the Bobcats' top receiver last season. Speaking to the Sentinel Friday, he said the pro-style offense new KU football coach Charlie Weis will implement attracted him to the program. Still, the seeds for Johnson's decision were planted long before Weis stepped off a plane from Florida.
"I've always been a Jayhawk," Johnson said.
Jon Kirby, of the recruiting website Rivals.com, said Johnson's commitment marked an important step for Weis' recruiting efforts in Kansas.
"I think when you're Kansas and Kansas State in an area where so few Division I players come out each year," Kirby said, "you have to first build locally with the best players that you can find."
Kirby lauded Johnson's raw athletic talents — Johnson competes in the high jump at Basehor-Linwood — and his ability to turn short-yardage passes into 20-yard gains. As a junior for the 10-1 Kaw Valley League champions, Johnson averaged 17 yards-per-catch with a season-long of 55 yards.
"I think he's a great fit for what Kansas wants to do under Charlie Weis on offense," Kirby said. "He does things that your smaller H-backs will do."
Kirby expects Johnson to be the state's top tight end prospect for the 2013 class and a top-five overall prospect in Kansas.
Johnson received a scholarship offer from KU on Wednesday and needed just one day to mull it over before calling Weis Thursday evening.
"It's really relieving," he said. "It's good to know I've already got a place to play at."
A visit to Lawrence earlier this year left Johnson as impressed with the campus and facilities as he was with the coaching staff.
"It really caught my eye as a place that I could spend four years of my life and become a bigger person," he said.