Class 4A girls and boys sub-state basketball brackets released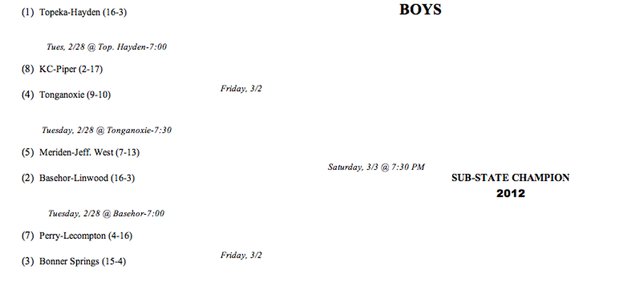 Yes, it's rivalry week. Bonner Springs is headed to Basehor-Linwood Friday for a double-header that will surely generate buzz. But just about all that'll be up for grabs will be bragging rights and a possible preview of a sub-state rematch later in the week.
Ask any of the teams' coaches and they'll tell you they'd love a regular season-ending win, but emerging injury free will likely be the priority on Friday with sub-state beginning Monday.
On Wednesday, the official sub-state brackets were released. Take a look at the draw below and share your predictions for what will be a busy week ahead.
So, what do you think? Who has the best chance to go all the way in each bracket? What do you think about the Braves and Bobcats possibly playing again just six days after ending the regular season against each other?
Be sure to follow @basehorsentinel and @bonnersprings on Twitter for real-time coverage and analysis of the tournaments, and use #basehorsports and #bonnersports to join the conversation.