County commission OKs shooting range near Tonganoxie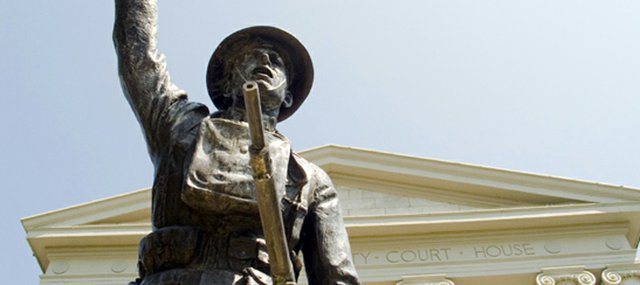 Leavenworth County Commissioners Thursday gave a nod to a proposed Sheriff's Office shooting range at a rock quarry about a mile west of Tonganoxie.
The commissioners approved, 3-0, a five-year special-use permit for the range to be constructed on county-owned property in a quarry near Kansas Highway 16 and Sandusky Road.
The new facility would provide the Sheriff's Office its own shooting range for the first time. Currently officers train at a range at the Lansing Correctional Facility that is used by a number of other agencies.
After the commissioners' vote, Sheriff Dave Zoellner said the new range would allow the department to put its officers through firearms training four times per year, which is "almost impossible" at the Lansing site with other agencies taking up much of the schedule.
"It's their range, and we're all backed up," Zoellner said of the correctional facility range.
Sheriff's officials have said the department will likely use the range two to three days per month, mostly during normal business hours, but with occasional nighttime shooting as late as 10 p.m. Officers can also train on the range while off-duty.
The resolution approved by the commissioners also allows for other law-enforcement agencies in Leavenworth County to use the range, but only at the discretion of the sheriff. Sheriff's Lt. Mike Swisshelm told commissioners that because of insurance requirements, other agencies will only be able to use the range if a Sheriff's officer is present.
Zoellner said he wanted to make sure no one else used the range except under the eye of his department, to ensure safety and protect against damage to the facility.
"It's got to be a well-controlled environment," Zoellner said.
The sheriff said the department could use the facility, which will also include a wooden shelter, for other exercises, including riot training and vehicle-stop simulations.
"Sometimes you need an outside training space that's kind of secluded," Zoellner said.
No one spoke against the proposed range during a public-comment period before the vote. County Commissioner John Flower noted, though, that the county had received messages from several nearby residents opposing the facility. Flower also noted that officers at the range will shoot toward the northwest, away from nearby highways, and the range will be built in a pit about 20 feet deep, where it will be surrounded by dirt and not rock.
About 20 people own pieces of property within 1,000 feet of the range site, said David Dalecky, a planner for the county.