Braves finish third at state wrestling tournament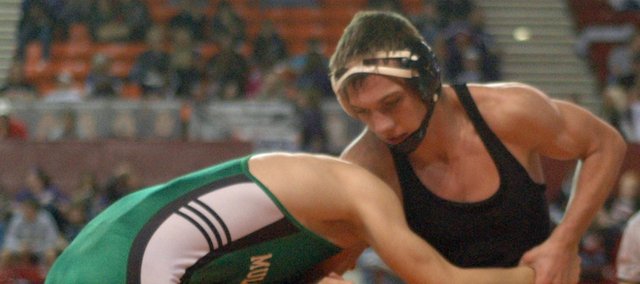 Photo Gallery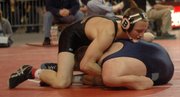 Bonner Springs wrestling at state tournament
The Bonner Springs wrestling team recently took third at the Class 4A state tournament in Salina.
Salina — Ask Bonner Springs coach Brandon Jobe to sum up the Braves' 2011-12 wrestling season, and he'll say one word: "bittersweet."
The Braves saw their campaign come to an end Saturday with a third-place team finish at the Class 4A state tournament in Salina.
"I couldn't be happier with the effort these guys put in and the time and dedication they showed," Jobe said. "They've got nothing to hang their heads about."
Five BSHS wrestlers left the Salina Bicentennial Center with medals around their necks, including a pair who reached the finals in their respective weight classes.
Junior Jonathan Blackwell (145 pounds) and senior Mark Hobson (152) each battled their way to the championship round and both finished second. Blackwell dropped a 2-1 decision to Pittsburg's Aaron Seybold in the finals, while Hobson suffered a 3-1 loss against Razzy Morales of Ulysses.
Other Braves to earn medals included sophomore Josiah Seaton (fourth place, 120 pounds), junior Aaron Puckett (fouth place, 160 pounds) and junior Jared Clements (third place, 170 pounds).
As a team, the Braves accumulated 92.5 total points, which was good enough for third place in the final standings. They finished behind Andale (99) and Colby (96.5).
"They did everything in their power to put Bonner Springs in this position," Jobe said.
Junior Justus Seaton (113) also entered Saturday's competition in search of a medal, but fell just one win shy of accomplishing that feat.
With several of his state qualifiers returning to the mat next season, Jobe admitted there is plenty to be excited about in 2012-13. However, the Braves' head coach is in no hurry to look past what his squad achieved this season.
"You always look forward to the next year and try to plan ahead," he said. "You want to be good for a long time, but right now, I want to praise these guys. This is a huge, huge accomplishment, and I want to enjoy it right now."