Basehor-Linwood boys dominate sub-state's first round, girls' season over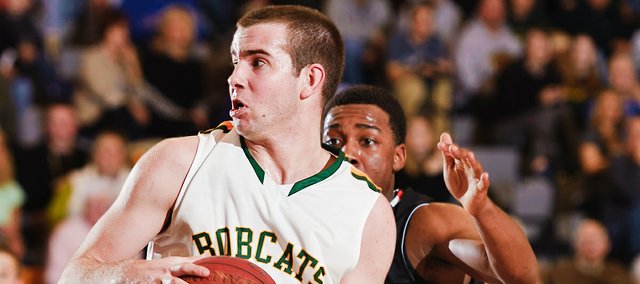 Friday's 4A boys basketball sub-state quarterfinal round will provide the third chapter of a trilogy between rivals Basehor-Linwood and Bonner Springs this year.
On Tuesday, the Bobcats (17-3) got 22 points from senior Ryan Murphy and 21 points from senior Colin Murphy in a 92-51 victory against Perry-Lecompton.
Chase Younger hit two 3-pointers in the first half to finish with 12 on the night. The Bobcats found success from 3-point range, burying nine shots from beyond the arc against the Kaws.
Basehor-Linwood jumped out to a 26-6 lead after the first quarter and added 29 points before halftime.
Brad Waterman and Ben Johnson each added 11 points.
The Bobcats and Braves (16-5) will tip off at 7:30 p.m. on Friday in Bonner Springs.
For more on their earlier meeting, see this week's Basehor Sentinel and Bonner Springs Chieftain.
BLHS girls' season ends
Senior Bailey Hooker scored 12 of her team's 22 points, but the Bobcats fell in the first round of sub-state play, losing 33-22 at Piper Monday.
The team's offensive struggles from Friday carried over into the tournament as just four other Bobcats recorded points — none scoring more than Cara McCarty's four — and scored just four points in each of the first two quarters. The girls also struggled from the free-throw line, making just 2-of-11 attempts.
The Bobcats (8-12) end a season with its fair share of ups and downs. Though the loss of junior Jaime Johnson removed a valuable member of the team's offense, the Bobcats twice eclipsed 70 points in victories in the season's second half.on's second half.