Braves shake poor performance, advance to sub-state second-round rematch with Basehor-Linwood Friday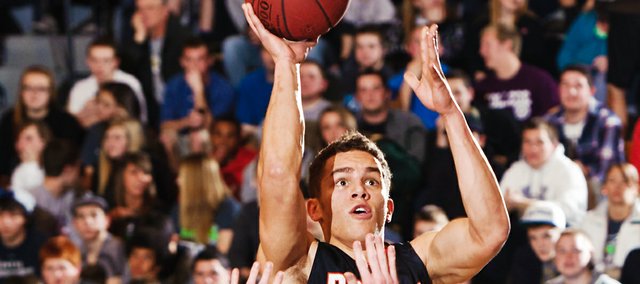 If anything, Bonner Springs coach Andrew Price was relieved that his team played poorly in the first round of sub-state, rather than Friday against Basehor-Linwood.
In the fourth meeting this season with Bishop Ward, the Braves overcame an uncharacteristic game and managed to win, 44-33.
Price said if they give the same performance Friday, it's going to be a long game.
"There were things we haven't done all year long," he said about Tuesday's game. "We just have to erase it and move on."
These out of character issues for the Braves were a long list of basics: Bad passes, no communication, missed layups, poor defensive execution. At some point, Price said, they would have to overcome a messy game like this.
The Braves took a 14-4 run into a 31-15 halftime lead and it looked like it would be a repeat of last Tuesday's dominating matchup between the two teams.
But the third quarter was forgettable for the Braves, as the Cyclones held them to five points and closed the gap to eight points with two minutes left to go.
Though the rest of the game was low-scoring, Bonner Springs did enough to hold on, thanks to the efforts of seniors Stevie Williams and B.J. Watson, who each had 14 points.
Williams said the team started the game slowly, despite a solid game plan.
"We wouldn't get out defensively the way we normally like to play," he said. "We really didn't play our game tonight."
Though Bonner Springs did commit several errors, Bishop Ward helped.
Price said that the teams have gotten to know each other so well that the Cyclone's game plan was able to force the Braves out of their comfort zone.
The sub-state semifinals are next with a 7:30 p.m. Friday contest at Basehor-Linwood looming.
Bonner Springs has the home court despite being the higher seed, and they need every advantage they can get.
The Bobcats have gotten the best of the Braves in their two meetings this season: 68-61 in January and 63-50 this past Friday.
But this next game is the one that counts and Bonner wants to take something away from its victory against Bishop Ward.
Playing a team long enough can generate some good luck just out of familiarity.
Price said the Braves are playing with nothing to lose.
Williams is also hopeful because he has been in this position before. Last season, in fact.
"Last year we played Bishop Ward three times," he said. "In the third game, it took us until the fourth quarter to put them away. We're going to go into this game ready to play."