Deegan's 27 leads Bonner Springs' dominant sub-state opener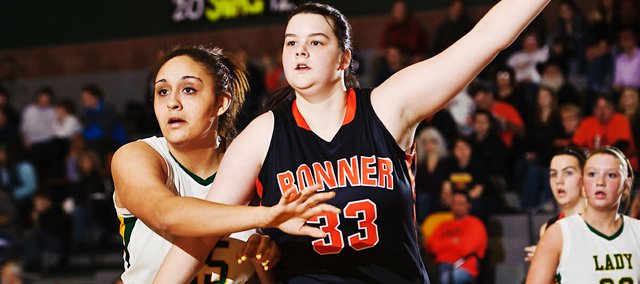 Junior Anna Deegan's 27 points led Bonner Springs past Perry-Lecompton Monday in the first round of sub-state play.
The tournament's No. 1 seed, the Braves (20-1) cruised past the Kaws, 58-21, in a game highlighted by a 23-2 third-quarter run.
Deegan scored 13 of her team's 26 points by halftime and went off for 14 points during the Braves' big third quarter. Deegan's 27-point output was second only to the 28 points she scored against Lansing in December.
"She's taking more and more shots in games that she wasn't taking earlier in the season," coach Clay Oakes said.
Early on it appeared that the Kaws' zone defense would give the Braves fits. The game was tied at 2-2 after the first six minutes and the Braves appeared poised to repeat Friday's slow start against Basehor-Linwood.
Deegan then sparked a late-first quarter surge, scoring three straight baskets and leading the team to an early 16-5 lead. Still, the Braves couldn't quite crack Perry-Lecompton's zone until an 8-2 run pulled them away by halftime.
"The girls did a great job adjusting to whatever was thrown at us," Oakes said.
For much of the night, Deegan and senior Yessenia Hernandez swarmed Perry-Lecompton, creating turnovers and points in transition at will. Hernandez didn't record a basket, but found Deegan multiple times for assists, including a half-court laser that reached Deegan under the basket for an and-one opportunity in the third quarter.
Bonner Springs came out running in the second half, scoring six-straight points within the first minute. By the 4:53 mark, Deegan had 23 of her team's 38 points.
"We know teams are going to play us zone because we like to get the ball inside," Deegan said, "so we decided that's what we had to definitely work on. We succeeded tonight."
On defense, the Braves kept Perry-Lecompton off the board until the quarter's final 20 seconds. Up 49-11 heading into the final quarter, Oakes took the opportunity to allow his reserves to log a quarter of postseason experience.
Junior Cassady Holloway finished with 10 points, included two 3-point baskets. Coming off the bench, freshman Kaleigh Taylor scored seven points. In all, seven Braves contributed to the final score.
Piper's 33-22 victory against Basehor-Linwood on Monday sets up a rematch of a Jan. 26 contest that saw the Braves battle back from a halftime deficit to escape with a 27-26 win.
Bonner Springs will host Piper at 7:30 p.m. on Thursday. The last time the two teams played on the Braves' home court, Bonner Springs earned a 10-point victory in the season-opener.
The Braves anticipate that Piper will use a zone defense against Bonner Springs and be aggressive in the paint.
"We definitely have to be strong on the inside," Deegan said.
Stay tuned to bonnersprings.com and use #BonnerSports on Twitter for live coverage of the game.