Driver declines hospital visit after rollover on
U.S.

24-40 near Basehor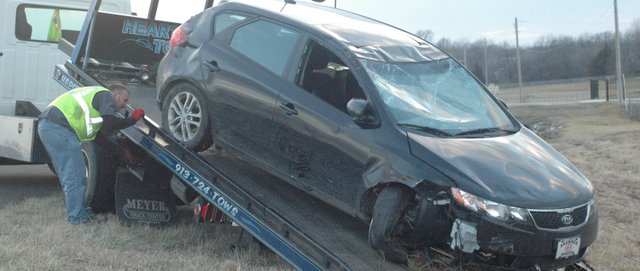 A Tonganoxie woman turned down medical treatment after a one-car rollover accident Monday on U.S. Highway 24-40 just west of Basehor.
Shannon Schmitz, 31, of Tonganoxie was driving west on U.S. 24-40 just west of Leavenworth County Road 2 (or 158th Street) about 5 p.m. Monday when her 2011 Kia SUV rolled onto its top in a ditch off the north side of the road, according to the Leavenworth County Sheriff's Office report.
Schmitz apparently "blacked out" while driving, causing her to drift off the road, the report said.
Basehor Police officers arrived on the scene first, and Schmitz became conscious as they helped her from the car. A Leavenworth County Emergency Medical Services ambulance arrived on the scene, but Schmitz refused treatment.
The Fairmount Township Fire Department also responded to the accident.