Live Tuesday: Bonner Springs boys vs. Bishop Ward in sub-state first round action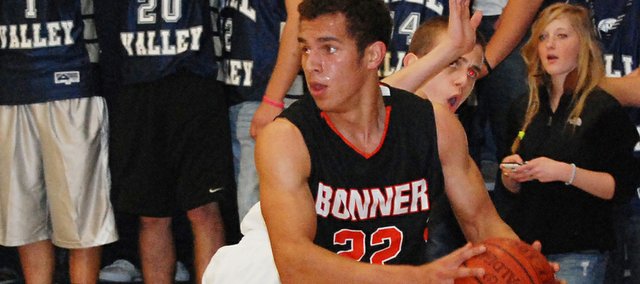 The Bonner Springs boys basketball team (15-5) will have more than just a spot in the sub-state semifinals on the line when it hosts Bishop Ward (4-16) at 7 p.m. Tuesday.
The Braves, who possess the sub-state tournament's No. 3 seed, will have a chance at a third shot at Basehor-Linwood on Bonner Springs' home court. Should the rivals take care of business in the first round — Basehor-Linwood hosts Perry-Lecompton at 7 p.m. Tuesday — it will set up the second meeting between the two in six days.
The last time the teams met, Bonner Springs exited Basehor with a 63-50 loss. B.J. Watson led the Braves with 20 points, and Brett Steuart added 10 points and seven rebounds in the loss.
Meanwhile, Bonner Springs has had Bishop Ward's number in each of their two meetings this season. The most recent win came on Feb. 3, when the Braves routed the Cyclones, 74-44. Steuart led the way with 21 points, including four 3-pointers. When they're hot beyond the arc, the Braves are hard to stop — on Feb. 13, Jordan Jacksonhit seven 3-pointers in a victory against Turner.
Bonner Springs is the site of its sub-state bracket's championship game. Entering Tuesday, the Braves were 6-2 at home this season.
Watch a live broadcast of the game above, and use #BonnerSports on Twitter to share your thoughts on the game.