Basehor residents turn out in droves to recall mayor, 2 council members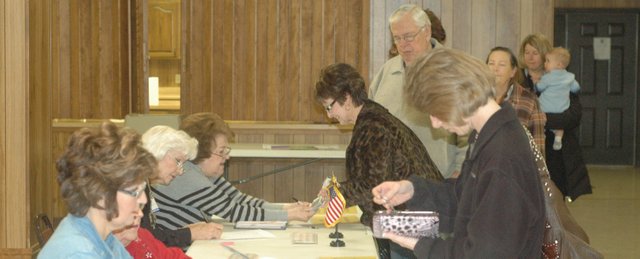 Unofficial results
Terry Hill: 586 votes for "Yes," 320 for "No"
Dennis Mertz: 555 "Yes," 350 "No"
Iris Dysart: 538 "Yes," 368 "No"
("Yes" votes are in favor of recall.)
Source: Leavenworth County Clerk's office
Photo Gallery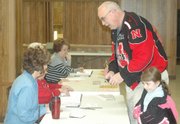 2012 Basehor recall election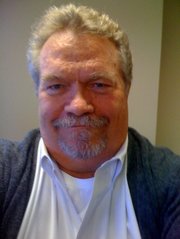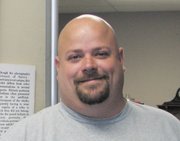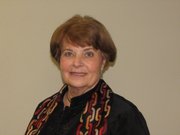 In great numbers and by a wide margin, Basehor residents on Tuesday decided to clean house at City Hall.
In a recall election, residents voted to throw out half of the city's elected officials, recalling Mayor Terry Hill and City Council members Dennis Mertz and Iris Dysart. About 65 percent of voters opted for Hill's recall, 61 percent for Mertz's and 59 percent for Dysart's.
For the special vote, residents turned out at a rate of nearly 30 percent, dwarfing figures from the last several regular City Council elections.
Groups of residents had mounted dueling efforts to remove the officials from office, with one committee of residents taking aim at Mertz and Dysart and the other seeking to recall Hill. The recall petitions all centered on former City Administrator Mark Loughry and his firing, which Mertz and Dysart supported and Hill opposed.
Hill, Mertz and Dysart will be the first elected officials ever to be recalled in Leavenworth County.
Dysart said Tuesday night that she was shocked voters had supported not one but both recall efforts.
"It is quite a blow to me," Dysart said.
According to state law, the three officials will be removed from office the day after Leavenworth County certifies the election results. County commissioners are scheduled to canvass votes on Monday.
The Sentinel's attempts to reach Hill on Tuesday night were not successful.
Mertz said after results were announced Tuesday that he believed voters had been confused by accusations lobbed by the group seeking to recall him and Dysart, and they had decided they should throw out the whole lot.
"I think they may have said, 'Enough's enough and let's start fresh,'" Mertz said.
'New blood'
Earlier in the day, Basehor resident Lori Maleta-Brown echoed that thought after she voted in the afternoon at Holy Angels Catholic Church. She said she wanted some "new blood" at City Hall.
"The whole thing is just ridiculous," Maleta-Brown said.
Residents involved in the recall efforts both said they got more than they bargained for when the vote spelled bad news not just for the officials they opposed but also for the ones they supported.
Marilyn Townsend, a Basehor resident who led the effort to recall the mayor but supported Mertz and Dysart in their attempts to stay in office, said she was "at a loss for words" after all three officials were recalled by wide margins.
"I would never have believed this community would do this," she said.
Bob Stonacek, a resident who supported the recall effort against the two council members, said he was disappointed that the mayor would be on the way out as well. He guessed that voters upset about Loughry's firing and other issues at City Hall had thought it necessary to spur change starting at the top.
"The message probably got out too strong," Stonacek said.
Overall, he said the results made him encouraged for the city's future.
The group opposing Mertz and Dysart had alleged that the two council members had violated the Kansas Open Meetings Act by having discussions related to Loughry's firing outside of an open council meeting. Both said that charge was false.
The committee seeking Hill's recall, meanwhile, accused the mayor of improperly revising Loughry's contract to give him additional health benefits and authorizing a $50,000 severance check to Loughry without approval from the City Council. The mayor denied those charges, saying both actions were lawful.
Hill was elected mayor in 2009 and had just more than a year left in his term. Mertz was elected to the council at the same time, and his term also ends in April 2013. Dysart was first elected in 2003 and re-elected in 2007 and again last April. Her term ends in 2015.
The three remaining council members — Fred Box, David Breuer and Travis Miles — must now appoint one of themselves as council president, and that person will ascend to mayor. That new mayor can then appoint three replacement council members, with approval from the rest of the council.
A spike in interest
The contentious recall election Tuesday awakened Basehor voters, who responded by casting a much higher volume of votes than had been seen in a local election in more than half a decade.
According to the county clerk's office, 909 Basehor residents voted on Tuesday — about 29 percent of the 3,152 registered voters in Basehor.
In the last regular City Council election in April of last year, only 538 of 3,043 voters cast ballots — about an 18 percent turnout.
Basehor resident Kim Scott, who moved to town in 1997, said she had never voted in a local election until she cast a ballot at Holy Angels Catholic Church on Tuesday afternoon.
Scott said she thought the recall-related hubbub over the past few months, including scores of road signs and mailers to Basehor residents, spurred more residents then ever to take notice of happenings at City Hall.
"This time around I felt like it was a little more important," Scott said.
Election workers at the church had said earlier that the morning rush of voters shortly after polls opened at 7 a.m. had not been out of the ordinary for a city election. But a steady stream during the rest of the day added up.
Workers also said the first Leavenworth County election affected by a new state voter ID law went off without a hitch. Voters seemed well-informed about the new requirement, they said, and no one was turned away because of a lack of an ID.
Turnout in the last three local elections in Basehor, in 2011, 2009 and 2007, had hovered around 18 percent. Tuesday's numbers easily surpassed those in any local election since 2005, when a county sales tax question and a state marriage amendment were also on the ballot, and turnout was about 40 percent.
Debra Healy, of Basehor, also voted at Holy Angels on Tuesday afternoon. She said she'd always voted in local elections but had never thought about going to a City Council meeting before this year's recall buzz. That might change now, she said.
"I think it might just have made people more aware of their responsibility in government," Healy said.
---
10:15 a.m. report
Election workers were busy, but not overwhelmed, early Tuesday morning as polls opened at Holy Angels Catholic Church on the day of the Basehor recall election.
Workers said about 90 people — or about 3 percent of registered Basehor voters — had voted by 8 a.m., when polls had been open about an hour. Volunteer Jean Feagles, who has helped with a number of Basehor city elections, said the polling site had been perhaps less busy than it would be during a typical city council vote.
"Usually in the morning, first thing, we're swamped," Feagles said.
The election centers on whether three city officials — Mayor Terry Hill and city council members Dennis Mertz and Iris Dysart — should be removed from office.
Voter turnout has been about 18 percent in each of the last three regular local elections in Basehor, in 2011, 2009 and 2007.
Leavenworth County Clerk Janet Klasinski, who was helping at the site Tuesday morning, said voters had not had any trouble complying with the new Kansas voter ID law. This is the first election in the county to be affected by the law, which requires voters to take a photo identification to the polls. As of about 8:30 a.m., Klasinski said no voters had failed to do so Tuesday.
"It's been wonderful," she said.
Basehor police chief and interim city administrator Lloyd Martley said he would check on the site throughout the day, just to ensure no problems developed. Emotions have run high among some Basehor residents as the recall election has approached, he said.
Basehor resident Charlie Mathies said he was voting in his first city election Tuesday after moving to town about three years ago. He said the election signs around town and several campaign letters sent to city residents had drawn his attention to the recall election, and he'd done his best to learn about the issues from other residents.
"We can't change the world, but we do have a right to vote," Mathies said.
Resident Cynthia Dilley said she believed it was always important to vote, though this recall election did require a great deal of thought.
"It's very complicated, but serious," Dilley said.
Polls at the Holy Angels church's Father Quinlan Hall, near 154th Street and Leavenworth Road in Basehor, will remain open until 7 p.m.
For some basic information on the election, take a look at the Sentinel's recall Q-and-A. For more background, check out the Basehor Recall Election Central page.