Basehor library launching programs to help patrons with e-reading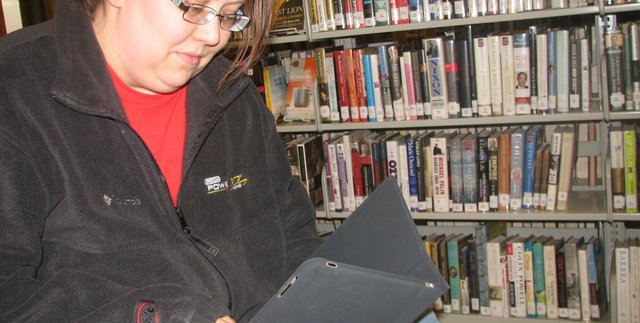 Just in time for area residents unpacking the electronic reading devices they received for Christmas, Basehor Community Library is catering to patrons seeking e-books as it never has before.
Following the conclusion of an experimental electronic reading group that met late in 2011, the library is launching programs to help patrons use Kindles, Nooks, iPads and other handheld devices for reading, starting with a program set for Saturday called "What Did You Get For Christmas?"
"It's just going to be very informal, but we'll try to help people, point them in the right direction," library director Diana Weaver said.
The event, which will be 1 to 3 p.m. Saturday at the library, 1400 158th St., is designed to help any residents who may have received new electronic reading gadgets as holiday gifts but are unsure how to use them to their full potential.
"Sometimes people don't quite know the question to ask," Weaver said.
Library staff members will be available to help using their own experiences or to help patrons find helpful online resources, she said.
The library will also offer several "E-reader Tips and Training" classes this month to help patrons learn to use their devices and to use an online lending system for e-books that the library is using. Those will take place from 1 to 2 p.m. Tuesday, Jan. 10, 2 to 3 p.m. Sunday, Jan. 15, and 7 to 8 p.m. Wednesday, Jan. 18.
E-reader training was one of the recommendations of the library's Digital Readers group, a collection of staff, supporters and patrons that met from September through December and tried out a number of e-readers and tablet devices. The library's e-book lending service, the Sunflower eLibrary, is an answer to another major recommendation, Weaver said.
"The No. 1 thing they said was that we needed content for our devices, so we don't have to pay," Weaver said.
The Sunflower eLibrary service, which the Basehor library is using in cooperation with eight other libraries in the state, will allow patrons to check out e-books just as they would check out physical books. The service keeps a certain number of digital "copies" of each of its titles, each of which can be checked out by one user at a time. The service became available Tuesday to library cardholders who live in the library's district, which covers roughly the same area as the Basehor-Linwood school district.
The library's website, basehorlibrary.org, has a link to the Sunflower eLibrary service.
Emily Kiefer, a Friends of the Library board member who was a member of the Digital Readers group, said she received an Amazon Kindle as a birthday gift about a year ago but had not begun to use it heavily until she participated in the group in the fall. She had never tried borrowing free e-books until then, she said, and that possibility made the device more appealing.
"I think I've since decided I really do like it," Kiefer said.
Besides providing more free content, the group also suggested that the library hold a fair for residents curious about what e-readers have to offer, since it still owns several of the devices used for the group. That way, she said, people could try out the different gadgets without the pressure from salespeople they might feel at an electronics store.
"You could sit and read a couple chapters and kind of get a feel like we did," Kiefer said.
Weaver said the library would also explore lending out the devices themselves to patrons, perhaps pre-loaded with electronic books. For instance, the library might loan out a Kindle loaded with several books about vampires, she said.
"Not everybody can afford the devices, and we don't want to leave people out," Weaver said.