Basehor man among those thanked for life-saving blood donations for 4-year-old boy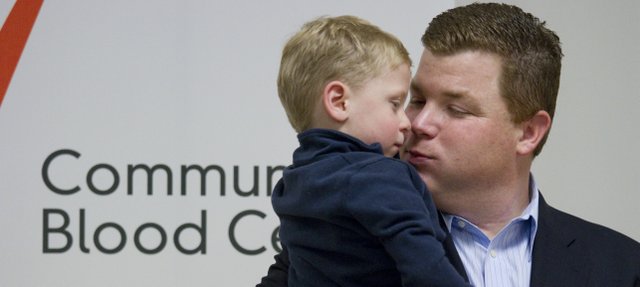 Thomas and Angela Charles had the rare opportunity Tuesday to thank eight people who helped save their 4-year-old son's life by donating blood, one of whom is a Basehor resident.
As Thomas stood before the donors at a podium inside the Community Blood Center during a media event, he fought back tears and tried to keep his composure as he expressed his gratitude and talked about his son's 14-month battle with neuroblastoma, an aggressive form of cancer that develops from nerve tissue. His tumor formed in the adrenal gland.
"We don't like to talk about statistics. In fact, we hate it, and we were told that the odds were not on our side," Thomas said. "We were told Joseph's was an aggressive, mean cancer and that it would require an even more aggressive treatment protocol."
Joseph endured high doses of chemotherapy, surgery to remove the tumor, a stem-cell transplant, radiation and six months of immunotherapy. He also lost his right kidney. He spent 121 days in the hospital and received 14 red-blood transfusions and nine platelet transfusions.
Thomas estimated that his family had made more than 230 trips by the Community Blood Center at 4040 Main St. on their way to and from Joseph's treatments and their Kansas City, Mo., home. "There was a time in our lives when this building was just another building on the route down Main Street, and now we understand that it is so much more," he said.
The Community Blood Center serves 70 hospitals in northeast Kansas and northwest Missouri, including Lawrence Memorial Hospital and Children's Mercy Hospital, and it must collect at least 580 pints of blood every day to meet the region's needs.
"Never in a million years when we were signing the consent form for that first blood transfusion did I think we would be able to thank the people who donated blood to Joseph, and so we are honored and privileged to do that today," Thomas said, struggling to speak the words. "From the bottom of our hearts, we would like to say thank you."
One by one, the donors came forward and received a hug or handshake from each parent, a handshake from Joseph's twin brother, Patrick, and a smile from Joseph, who is now in remission.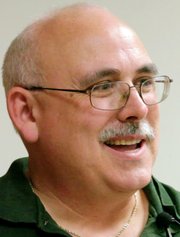 Among them was Basehor resident David Mellott, 43, a police officer at Fort Leavenworth, who has regularly donated blood for 20 years. He gave Joseph a toy police car and a pat on the head.
"Even after all of these years, I still don't like the initial stick, but I know it's going to help someone," he said. "I just wish more people would donate."
The other donors expressed the same sentiments.
Stuart Meurer, 28, just moved to Kansas City from Texas three years ago and donates blood when the center has a drive at his church. He felt a special bond with Joseph because he is a twin, too.
"I understand the bond that twins can have, so I hope he does well in the future not only for him but for his brother and his family," Meurer said.
And for John Naylor, of Overland Park, the meeting was an early birthday gift; he turns 49 this week. Naylor has been donating blood since he was a high school student, and now four of his five children donate blood as well. He said his youngest child likely will donate once he turns 16, the minimum age to donate.
"When you donate blood, you think that it's going to help somebody and you hope it is, but here today to see that young boy who was so sick and now looks better is really a neat thing," he said with a smile. "The needle hurts just a little bit but you are doing so much good for somebody else to do that. It's not much of a sacrifice."
HOW TO HELP
January is National Blood Donor Month because donations decrease this time of year because of the holidays, weather and illnesses. The Kansas City, Mo.-based Community Blood Center is no exception.
David Graham, vice president of donor and hospital services, said they've experienced about a 40 percent drop in donations, yet, unfortunately, the demand remains the same.
The center supplies blood to 70 area hospitals, including Lawrence Memorial Hospital. One donation, which is about a pint, can help two hospital patients. The center must collect at least 580 pints of blood every day to meet the region's needs.
The American Red Cross, which supplies blood to nearly 3,000 hospitals nationwide, also needs donations. The Central Plains Blood Services Region supplies blood to most Kansas hospitals and northern Oklahoma.
There are several blood drives scheduled in Lawrence. The Community Blood Center's are:
• Jan. 17 — 9 a.m.-noon, Douglas County Courthouse, 1100 Mass.
• Feb. 3 — 2 p.m.-4:30 p.m., Lawrence School District parking lot, 110 McDonald Drive.
• Feb. 13 — 10:30 a.m.-1 p.m., Lawrence Board of Realtors parking lot, 3838 W. Sixth St.
• Feb. 23 — 2 p.m.-5:30 p.m., Lawrence Public Library, 707 Vt.
The American Red Cross is having a drive:
• Tuesday, Jan. 10 — noon-6 p.m., Immanuel Lutheran Church, 2104 Bob Billings Parkway.
To schedule an appointment or for more information, contact:
• American Red Cross — 800-733-2767 or redcrossblood.org.
• Community Blood Center — 888-647-4040 or savealifenow.org.