BLHS

junior and YouthFriends mentor, after 10 years working together, honored in Brownback's office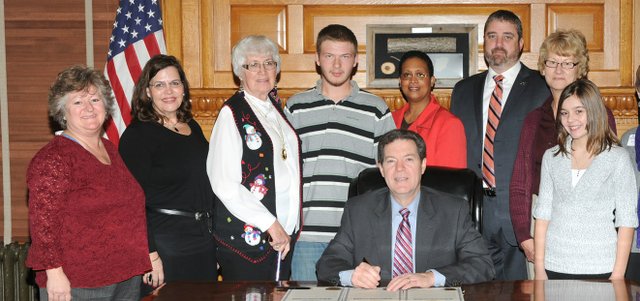 When William Wilson found out Tammy Potts wanted him to meet Gov. Sam Brownback on Wednesday morning, he was worried.
Wednesday would be his first day back at Basehor-Linwood High School after winter break, and he didn't want to miss class and fall behind.
Such concern was not something Pat Wolfe, Wilson's YouthFriends mentor, would have seen from him when she first met him nearly 10 years ago. Wilson, then in second grade, dreaded going to school and missed class frequently. His transformation since then, with help from Wolfe, is the reason the two of them joined Potts in visiting Brownback on Wednesday in the state capitol in Topeka.
Brownback on Wednesday signed a proclamation promoting National Mentoring Month in January, and Wilson, Wolfe and Potts from the Basehor-Linwood YouthFriends program joined the governor for the occasion, along with a 4-H group from Winfield. A state YouthFriends official asked Potts, YouthFriends coordinator for the Basehor-Linwood school district, to represent programs from around the state, and Potts asked Wolfe and Wilson, a junior at BLHS, to join her as an example of the kind of mentor-mentee relationship she would like to promote.
"You have to have a really great working relationship to go from second grade to graduation," Potts said.
Wilson did not need to worry about falling behind while on the trip — Potts talked to his teachers to make sure he could make up what he missed. Wolfe said his conscientiousness about his schoolwork showed just how much things had changed.
She recalled talking with Potts about Wilson back in 2002, when Wolfe sought a volunteer position with YouthFriends about 10 years after retiring as a teacher and just a few months after her husband died.
"She said, 'Well, we've got a second-grade boy that needs some help,'" Wolfe said. "He didn't like school. He didn't like math."
He had asked Potts for a mentor to help with his math, reading and spelling. Wolfe gave assistance in those three areas, plus handwriting; after 30 years as a third-grade teacher in Kansas City, Kan., she was a stickler for penmanship, she said.
Wilson, who attended Linwood Elementary School then, said he hated school, and he'd convinced himself he wasn't able to do his work. Wolfe remembered seeing his frustration when the class would work on math.
"They were doing a test, and he just laid his head down there and fiddled around," Wolfe said.
She would spend two to three afternoons each week at the school with William, far surpassing the one-hour-per-week commitment that YouthFriends asks from its volunteer mentors. They played card games to work on math skills and read books aloud.
Before working with Wolfe, William never would have read a book willingly, he said.
"It was boring when I read," Wilson said. "I'd never seen the point of reading."
But once Wolfe began reading aloud to him, putting expression and feeling in the words, he said he realized he could read books as long as they held interest for him — in those days, his favorites were the "Boxcar Children" books.
His mentor helped him realize he had the ability to read, spell and solve math problems, he said. He just needed someone to convince him that something was in it for him.
"She's the one I'd have to say made me see the point in a lot of things," Wilson said.
Now that Wilson is in high school, Wolfe doesn't tutor him anymore. She drops by the school once or twice per week during his advisory periods, she said, and checks in, making sure he's been turning in his assignments and giving some standard advice, such as the importance of staying away from drugs or smoking.
"Now, it's more we just catch up," Wilson said.
Wolfe's goal since meeting Wilson was to watch him graduate, and she's not surprised that he's on track to do so next year.
"I told him all along he was smart enough, but we had too many missing papers," Wolfe said. "But now that he gets his work in, it's A's and B's, which I knew he could do. He just had to be convinced."
Now Wilson, convinced that school does have a point after all, wants to earn a business degree after high school and run his own business someday, possibly in mechanics or lawn care. If he'd never met his mentor, he said, things would be different. He wouldn't have dropped out of school — his mother would never allow that — but he would certainly still hate it.
"If she wasn't there to push me, I don't think I'd have made it as far as I am right now," Wilson said of Wolfe.
Gov. Brownback asked Wilson and Wolfe about their story as they visited in his office for about 25 minutes Wednesday morning, Potts said. Wilson said the experience of meeting the governor was worth it, after all.
"I was nervous at first," Wilson said, "but he talked me through it, pretty much."
Potts said Wolfe's mentorship had given Wilson a positive relationship at school, someone he always strives to impress and please. It took a long time to develop, and it's what she hopes for from all of the roughly 200 adult YouthFriends volunteers in Basehor-Linwood schools, she said.
"She didn't give up on Willie," Potts said. "And what's more important: Willie didn't give up on her."