Hollywood Casino set to open Feb. 3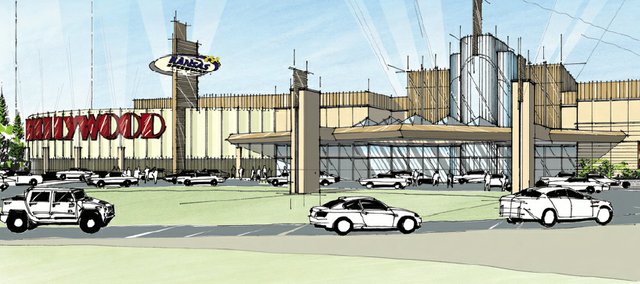 Hollywood Casino at Kansas Speedway announced Monday that it would open to the public on Friday, Feb. 3, pending final regulatory approvals by the state of Kansas and the Kansas Lottery Commission.
Grand opening festivities will begin about 11 a.m., the casino announced.
Bob Sheldon, general manager for the casino, said the contractor, Turner Construction, has worked diligently to get the casino open as early as possible in February, and the weather the past year has cooperated with the construction.
Construction will continue until the opening, however, as contractors complete the final touches. For example, he said, while one of the casino's restaurants is complete with carpet, tables, booths and lighting, the other still has concrete floors — though Sheldon said that restaurant should be finished within a week.
"It all kind of comes together at the end; it's not like we're building walls anymore," Sheldon said.
Hollywood Casino will offer 2,000 slot machines and 52 table games with more than 100,000 square feet of gaming space on a single casino floor. The casino will feature five restaurants, including Final Cut Steakhouse, a fine dining restaurant; Epic Buffet; and Turn 2 Lounge, a sports bar overlooking Kansas Speedway.
Another current project for the casino is the installation of hundreds of televisions and other projection screens and video technology, including a serpentine wall in the foyer that will play movie trailers. Sheldon said the casino was in the middle of the process of installing the slot machines, which must be individually tested by the state.
As for the 2,000 full-time positions at the casino, Sheldon estimated that about 95 percent of the employees had been hired.
"Not all of the folks that we've hired have started work yet, but they will over the course of January," Sheldon said, explaining that employee orientation training began for some employees this week.
Sheldon said the casino planned to have a ribbon cutting on its opening day, but details of the festivities still were being worked out. He said the casino would begin updating its website, Twitter and Facebook pages as information becomes available.
Hollywood Casino is expected to attract four million guests a year from Kansas, Missouri, Iowa, Nebraska and beyond. It will have an estimated economic impact of $220 million annually.