Hundreds rise early to show support at Basehor-Linwood High School
KCTV5

broadcast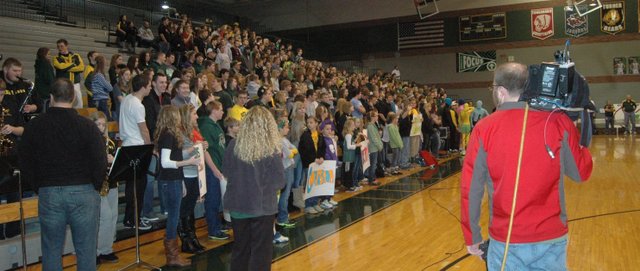 Photo Gallery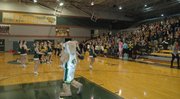 KCTV5 'Cool School' broadcast at Basehor-Linwood High School
At 6 a.m. they were there, and they were ready to be loud.
A crowd of several hundred students, leaders, staff members and others stood in the gymnasium bleachers at Basehor-Linwood High School early Friday morning during KCTV5's "Cool School of the Week" broadcast.
BLHS senior Trevor Hickman, the school's student council president, said he was blown away by the turnout and the enthusiasm of the crowd.
"This is the greatest thing I've ever seen at the high school," Hickman said.
KCTV5 reporter Iris Hermosillo spoke on the air with students from a number of service groups, including the YouthFriends CareCats peer mentoring program, a newly formed Diversity Club, the Family, Career and Community Leaders of America chapter and the National Honor Society. The broadcast, which lasted from about 6 to 7:30 a.m., was punctuated by performances by the pep band, vocal music groups, cheerleaders and the Bobcat Dazzlers dance team. And students from around the district, whom the district asked to come show support on camera, wore green and gold and dutifully yelled and chanted when they were asked.
The TV station picked BLHS as a "Cool School" after senior Kayla Rogers submitted an application, in which she cited the CareCats program's anti-bullying effect, along with a variety of achievements and honors by students and staff, as reasons the school deserved to be featured.
"I knew we would win," Rogers said. "We're cool."
Rogers is a member of the CareCats program, in which high school students serve as mentors for elementary- and middle-schoolers for the district, and in the fall she founded the school's Diversity Club, which promotes understanding between students of different races, religions and sexualities. Both groups help prevent bullying by demonstrating positive, open relationships between students, she said.
"The things we have, a lot of people don't have," Rogers said. "We're huge on anti-bullying."
Hermosillo said the "Cool School" program, which is sponsored by Wendy's, gives the station a chance to take a break from day-to-day news events and focus on the positive things going on at schools in the Kansas City area. She said the anti-bullying programs Rogers described, as well as the students' close-knit nature, helped BLHS stand out.
"These students really care about making their school just a good place to be," Hermosillo said.
Tammy Potts, the district's YouthFriends coordinator, helped organize the event. She said she was proud so many students came to show support, even though it meant waking well before dawn on a Friday.
"This totally amazes me," Potts said.
At least a few students simply stayed up the entire night before, as they indicated by raising their hands after Wendy's executive Mike Hotchkiss asked the crowd if anyone had skipped going to bed altogether.
Four students stood out from the mostly green-and-gold crowd by wearing brightly colored elastic body suits. Junior Hayden Morris and seniors Jesse Hiss, Skylar Ross and Dakota Foster said they attended so they could show some school spirit, but they also hoped to make it on TV. They guessed that their attention-grabbing suits would earn them a spot in the middle of the action, Ross said, and they were correct.
"We knew it was a front-row ticket," Ross said.
The choice was worth it, even though the suits, which covered the students' faces, were hot and difficult to see through, said Hiss.
KCTV5 will show a recap of the event during the 4 p.m. news Friday, Hermosillo said, and videos from the broadcast will also be posted to kctv5.com Friday evening.